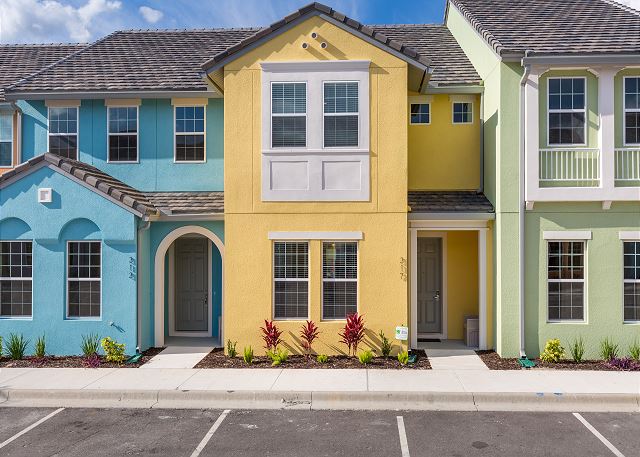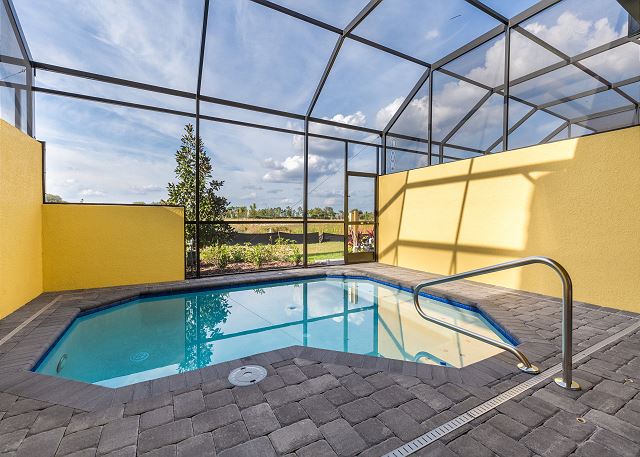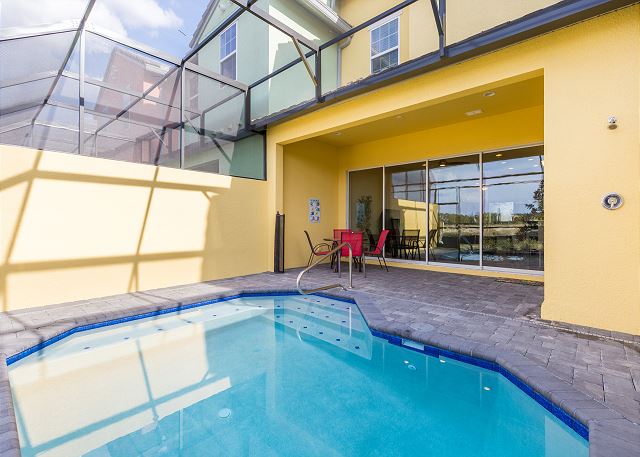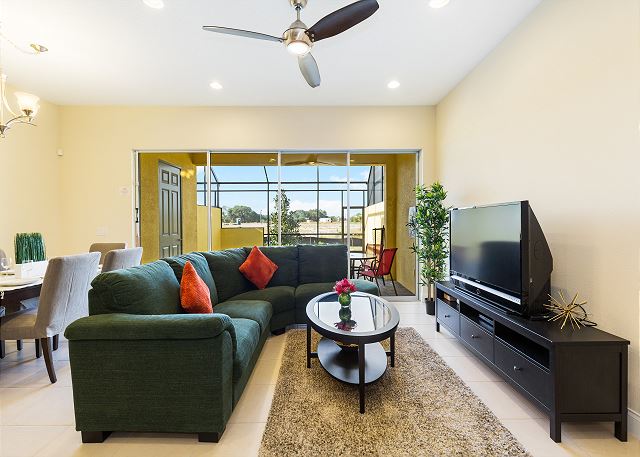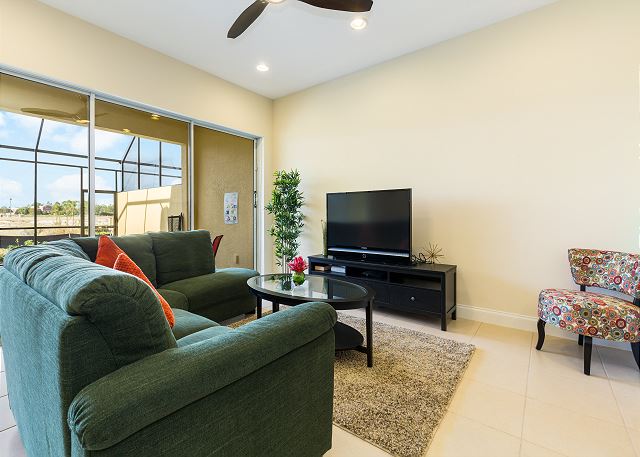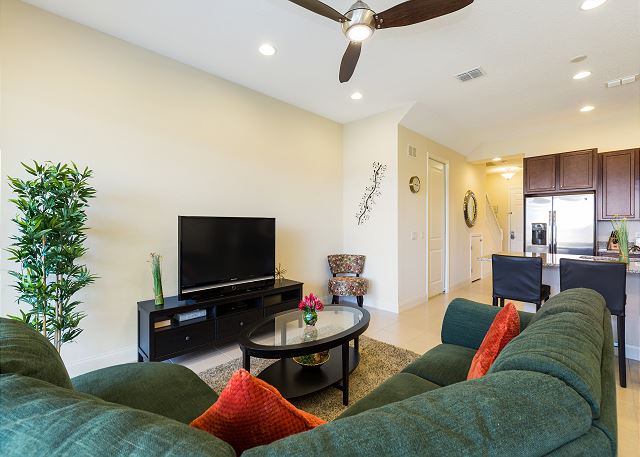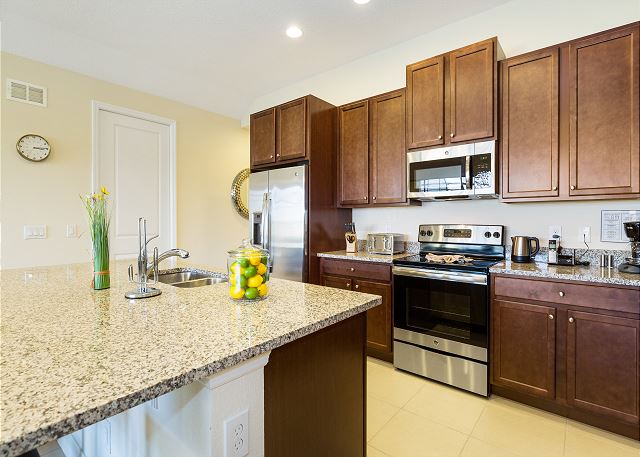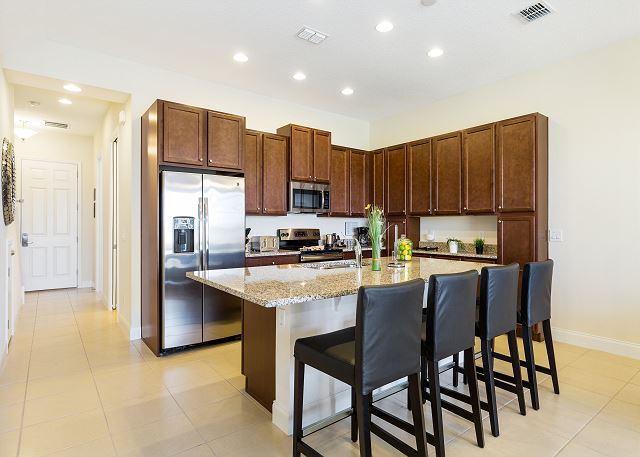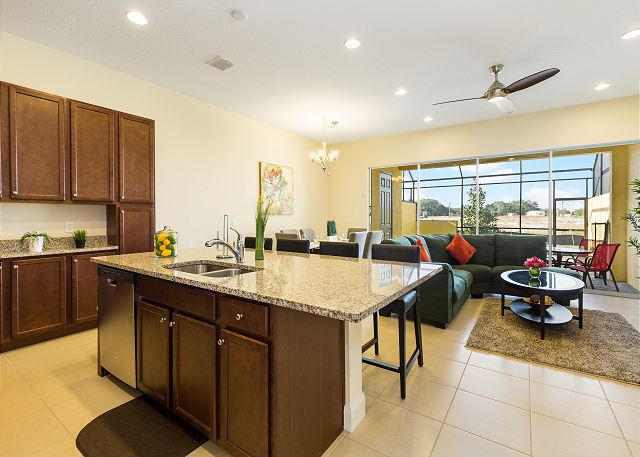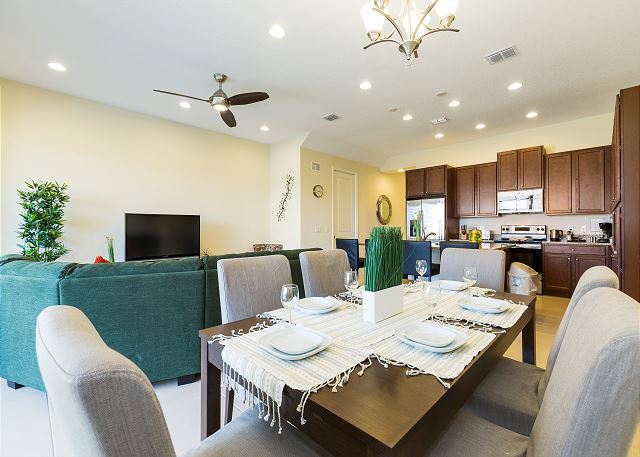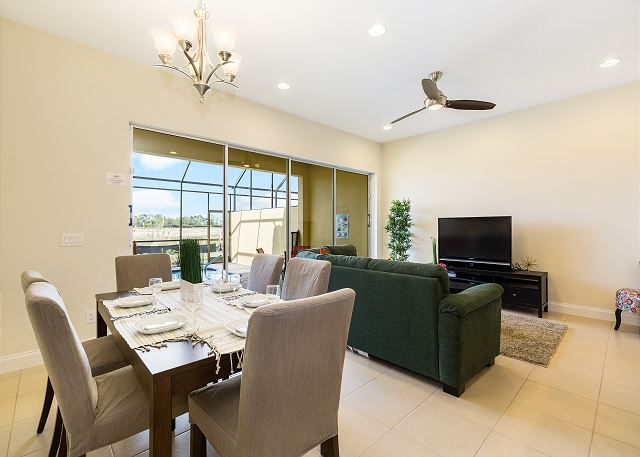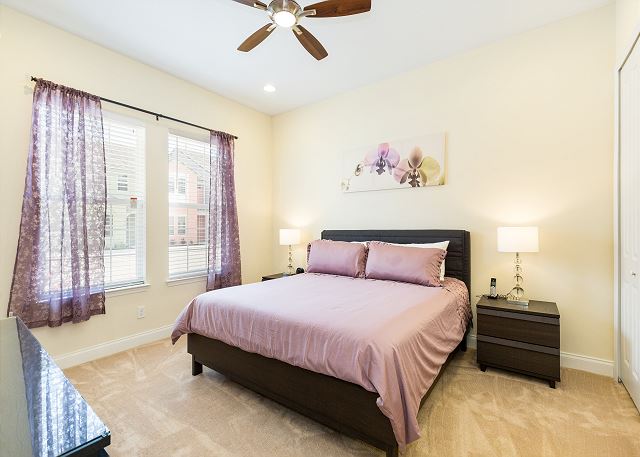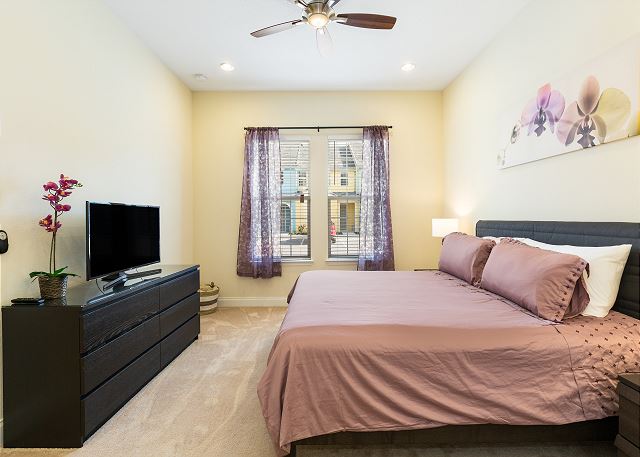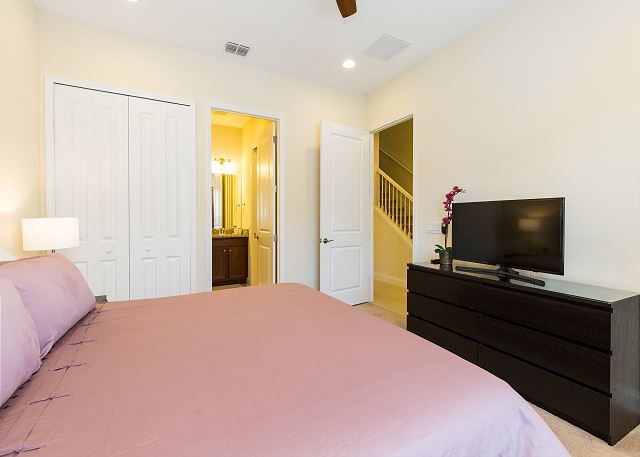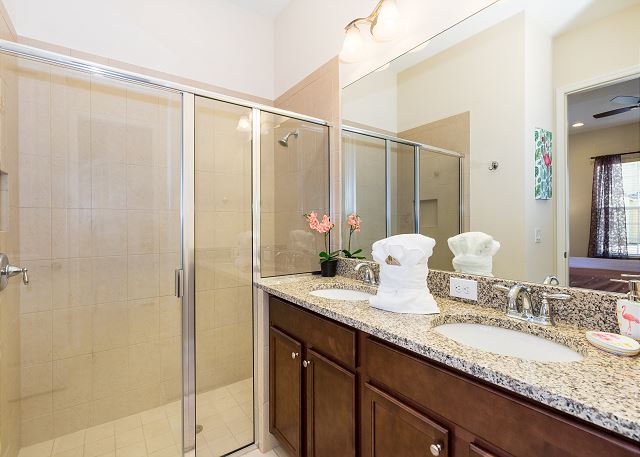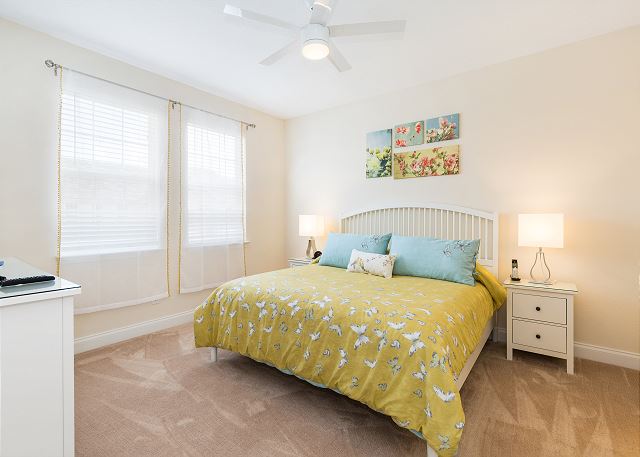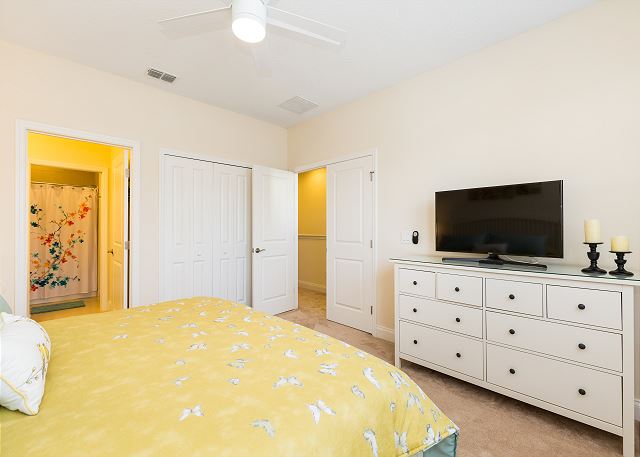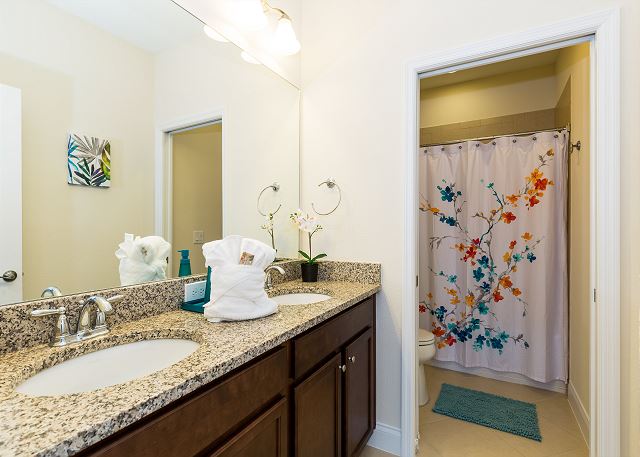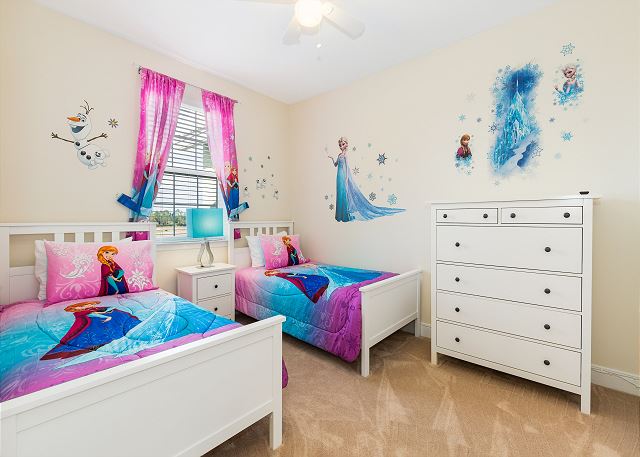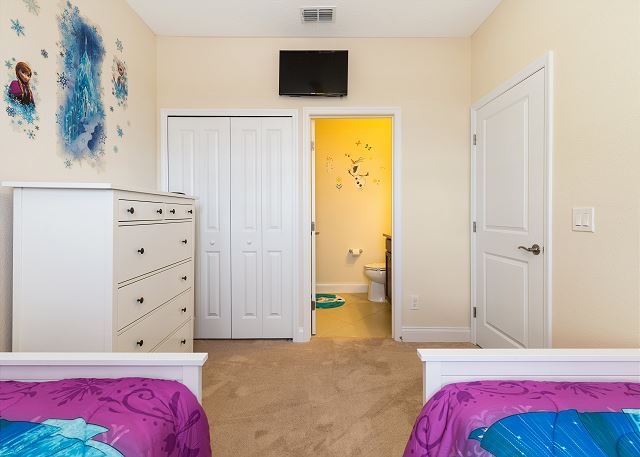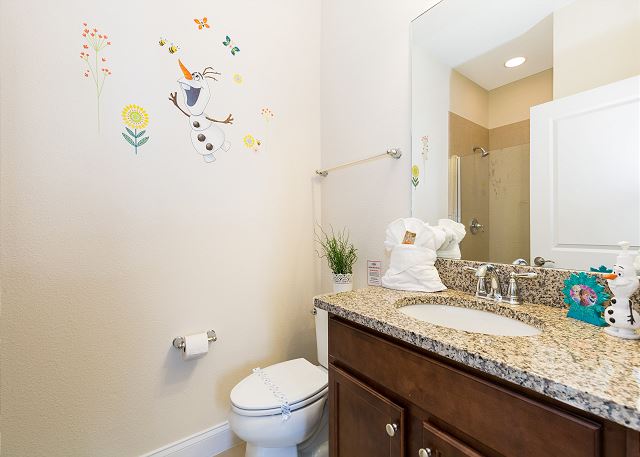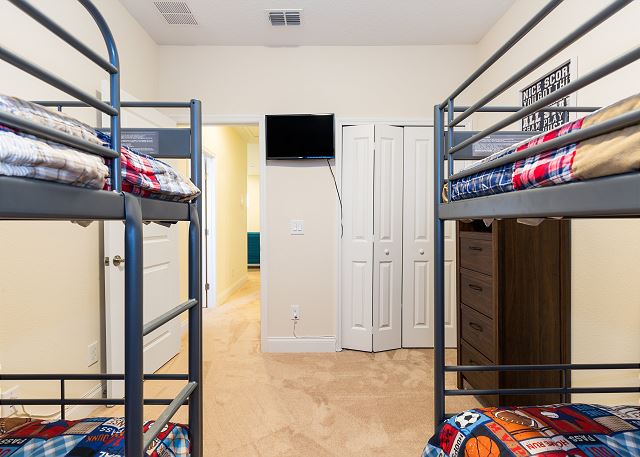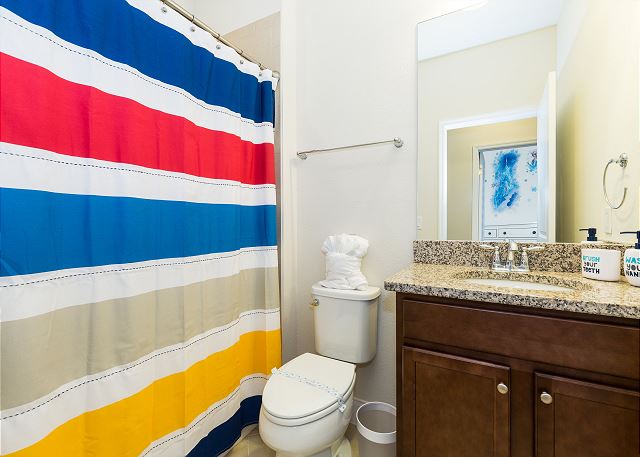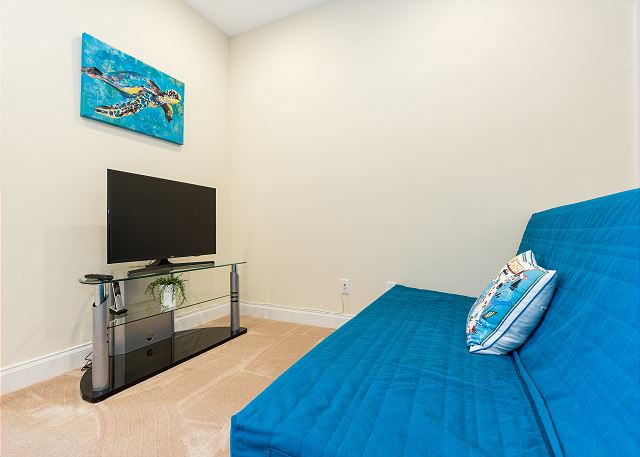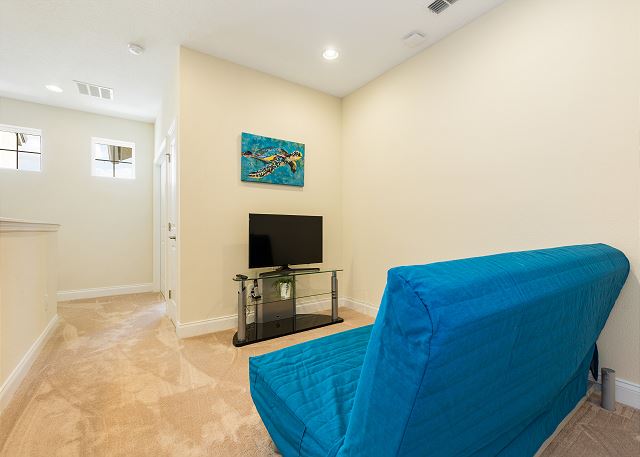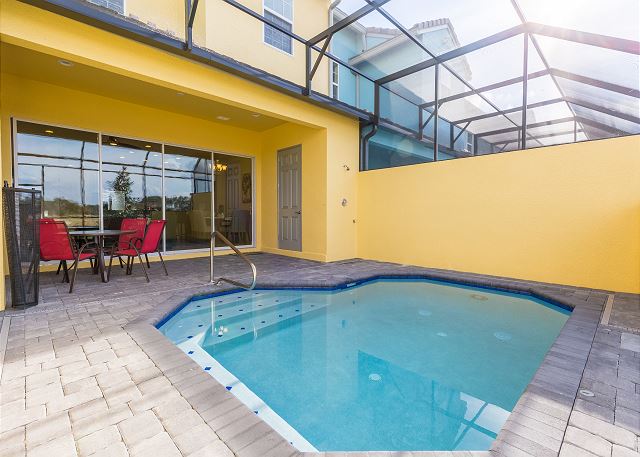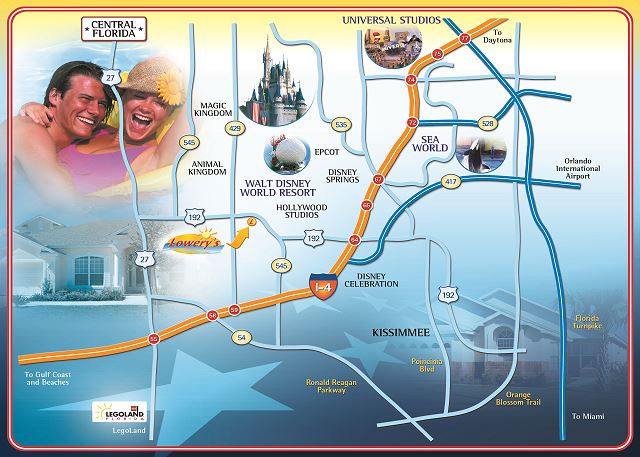 Description
3 Night Minimum Required to Secure a Booking.
The newly developed Festival Resort is home to this attractive two story townhouse. Festival is a private security gated resort that sits amongst 200 acres of lush natural woodlands and lakes. This stunning vacation resort is perfectly suited towards all members of the family ensuring that everyone has a wonderful time. The resort has been beautifully landscaped and boasts an abundance of facilities. Affording guests the luxury of homely self-catered accommodation whilst still benefitting from the use of fabulous resort amenities.
The home comprises of 4 bedrooms and 4 bathrooms and with ease it can accommodate up to 10 people. There will certainly be no need to queue for the wash facilities in the morning. The home features two master king bedrooms, each with their own private ensuite bathroom. One of these is located on the first floor and the other on the second floor. There is another bedroom which has been decorated with a Disney 'Frozen' theme, this room includes two twin beds. There is a further sports themed bedroom which incorporates two sets of bunk beds. Both of these bedrooms are located on the second floor. All of the bedrooms within the home come complete with a flat screen television and provide a comfortable space in which to relax and unwind.
On the first floor the open plan family room is a bright and airy space, with a large set of patio doors at one end that allow plenty of light to filter through. These patio doors lead directly out to the lovely splash pool and patio deck area. The modern kitchen is nicely appointed and well planned, featuring a breakfast bar with stools. It is fully equipped with everyday modern appliances and has a good supply of utensils to facilitate the preparation of family meals. The first floor dining and seating areas provide a nice place in which to spend time together with family and friends. For the benefit of all guests this home provides complimentary high speed WiFi.
Outdoors the home boasts a lovely private splash pool and patio deck area. There is a covered lanai providing shade and beneath this sit a table and chairs. A perfect environment for sitting outside or perhaps dining al fresco, and making the most of the warm Florida weather.
The private gated resort community of Festival at Champions Gate, Davenport sits nestled within 200 acres of picturesque natural Florida woodlands and lakes. This newly built resort features townhomes that have been constructed and furnished to a high standard. The community offers guests a dazzling array of amenities. There is a beautiful heated swimming pool and pool deck area with private cabanas. This extends to a kids fun waterpark featuring a galleon ship, so the smaller members of the family are happy to play whilst you relax and enjoy the sunshine. There is a fabulous clubhouse which includes a general store, ice cream parlor, arcade, Florida style bar and grill and a fitness center. Together with an 18 hole putt putt golf course there is plenty to keep the whole family entertained.
The Festival resort is conveniently located directly off Interstate 4 which is just a few miles from the Disney World Resort. Other major theme parks are also easily accessed from this location. There is a spectacular variety of shopping, dining and recreational facilities, including first class golf courses, practically at your doorstep for you to enjoy.
2 King Beds /
2 Twin Beds /
2 Bunk Beds
Amenities
General
Air Conditioning/Heating
Ceiling Fans
Free WiFi
Phone
Washer & Dryer
Ironing Board/Iron
Linens Provided
Towels Provided
Hairdryer
Parking
Kitchen
Full Kitchen
Breakfast Bar
Refrigerator
Coffee Maker
Ice Maker
Microwave
Toaster
Cookware
Stove
Dishwasher
Dishes & Utensils
Glassware
Outdoor Features
Splash Pool
Pool Deck/Patio
Lanai
Entertainment
Television
DVD Player
Safety Features
Smoke Detector
Carbon Monoxide Detector
Fire Extinguisher
Emergency Lighting
Emergency Exit Route/Plan
Community/Resort Facilities
Gated/Secure Community
Swimming Pool
Clubhouse
Gym/Exercise Room
Location
Disney Resort in 6 to 10 miles
Universal in 16 to 20 miles
SeaWorld in 11 to 15 miles
Restaurants within 1 mile
Shops within 1 mile
Calendar
July 2019
Sun
Mon
Tue
Wed
Thu
Fri
Sat
1
2
3
4
5
6
7
8
9
10
11
12
13
14
15
16
17
18
19
20
21
22
23
24
25
26
27
28
29
30
31
August 2019
Sun
Mon
Tue
Wed
Thu
Fri
Sat
1
2
3
4
5
6
7
8
9
10
11
12
13
14
15
16
17
18
19
20
21
22
23
24
25
26
27
28
29
30
31
September 2019
Sun
Mon
Tue
Wed
Thu
Fri
Sat
1
2
3
4
5
6
7
8
9
10
11
12
13
14
15
16
17
18
19
20
21
22
23
24
25
26
27
28
29
30
October 2019
Sun
Mon
Tue
Wed
Thu
Fri
Sat
1
2
3
4
5
6
7
8
9
10
11
12
13
14
15
16
17
18
19
20
21
22
23
24
25
26
27
28
29
30
31
November 2019
Sun
Mon
Tue
Wed
Thu
Fri
Sat
1
2
3
4
5
6
7
8
9
10
11
12
13
14
15
16
17
18
19
20
21
22
23
24
25
26
27
28
29
30
December 2019
Sun
Mon
Tue
Wed
Thu
Fri
Sat
1
2
3
4
5
6
7
8
9
10
11
12
13
14
15
16
17
18
19
20
21
22
23
24
25
26
27
28
29
30
31
January 2020
Sun
Mon
Tue
Wed
Thu
Fri
Sat
1
2
3
4
5
6
7
8
9
10
11
12
13
14
15
16
17
18
19
20
21
22
23
24
25
26
27
28
29
30
31
February 2020
Sun
Mon
Tue
Wed
Thu
Fri
Sat
1
2
3
4
5
6
7
8
9
10
11
12
13
14
15
16
17
18
19
20
21
22
23
24
25
26
27
28
29
March 2020
Sun
Mon
Tue
Wed
Thu
Fri
Sat
1
2
3
4
5
6
7
8
9
10
11
12
13
14
15
16
17
18
19
20
21
22
23
24
25
26
27
28
29
30
31
April 2020
Sun
Mon
Tue
Wed
Thu
Fri
Sat
1
2
3
4
5
6
7
8
9
10
11
12
13
14
15
16
17
18
19
20
21
22
23
24
25
26
27
28
29
30
May 2020
Sun
Mon
Tue
Wed
Thu
Fri
Sat
1
2
3
4
5
6
7
8
9
10
11
12
13
14
15
16
17
18
19
20
21
22
23
24
25
26
27
28
29
30
31
June 2020
Sun
Mon
Tue
Wed
Thu
Fri
Sat
1
2
3
4
5
6
7
8
9
10
11
12
13
14
15
16
17
18
19
20
21
22
23
24
25
26
27
28
29
30
July 2020
Sun
Mon
Tue
Wed
Thu
Fri
Sat
1
2
3
4
5
6
7
8
9
10
11
12
13
14
15
16
17
18
19
20
21
22
23
24
25
26
27
28
29
30
31