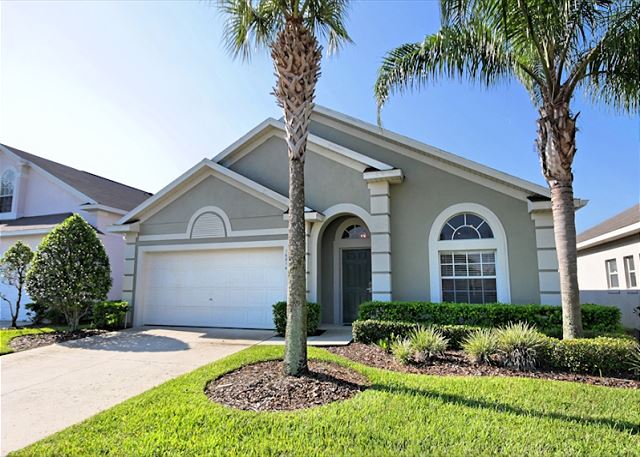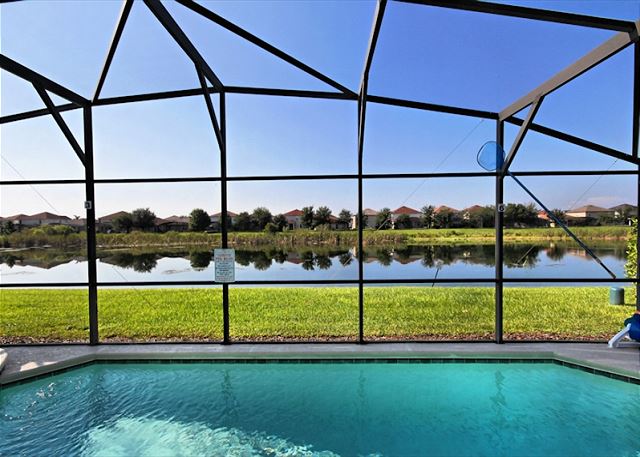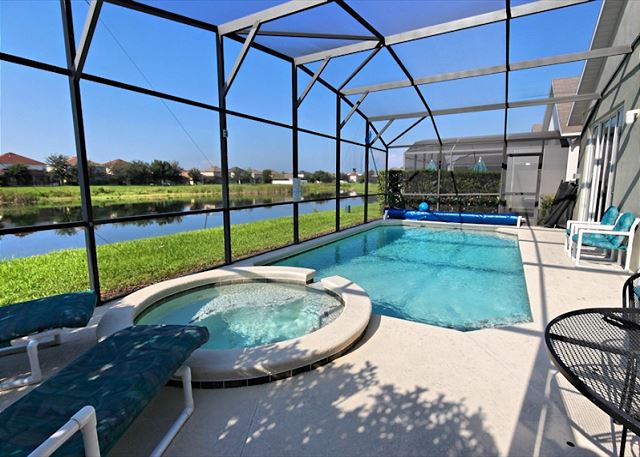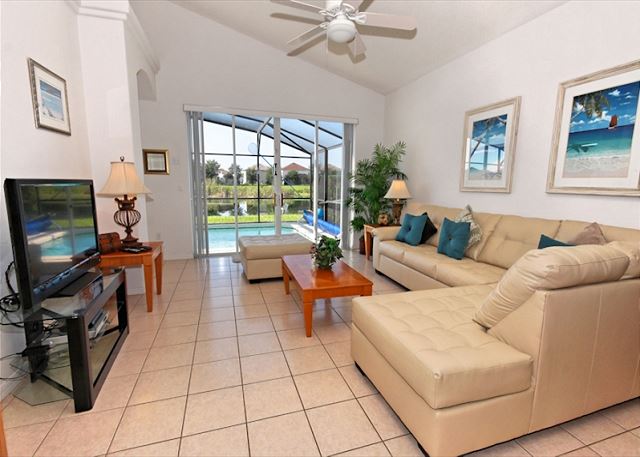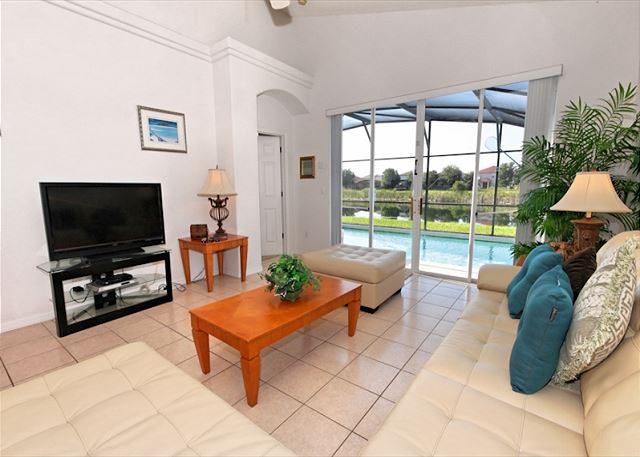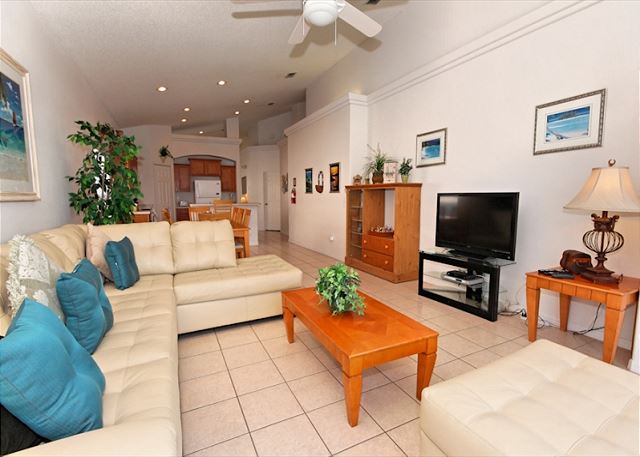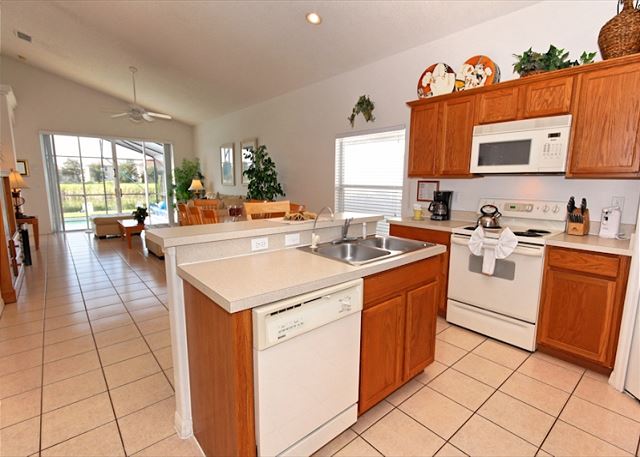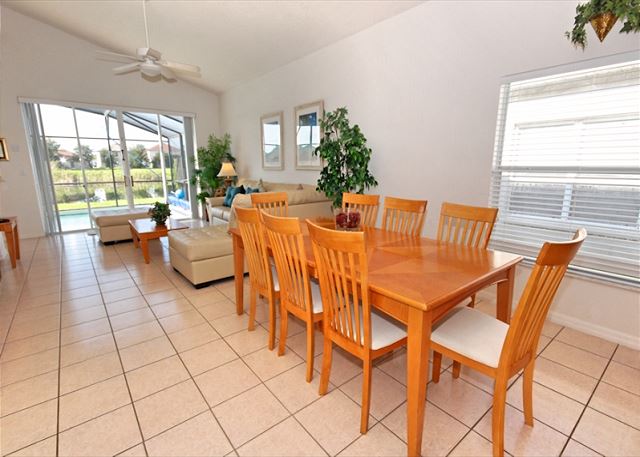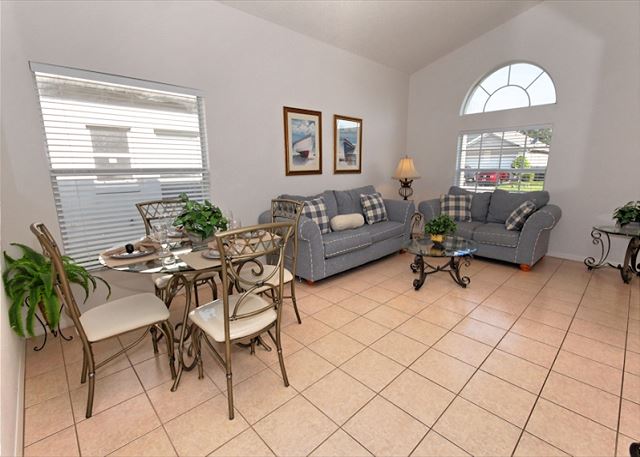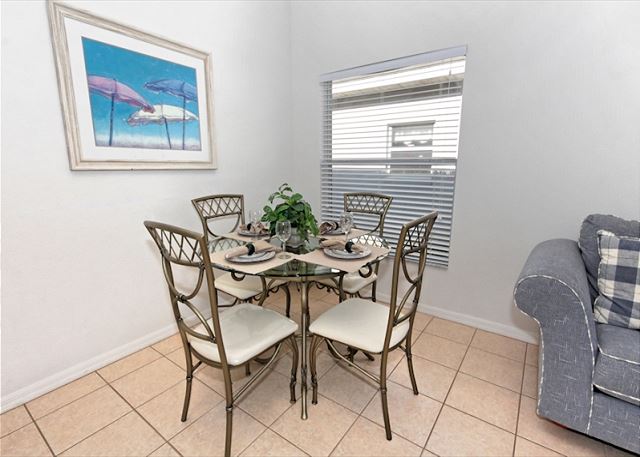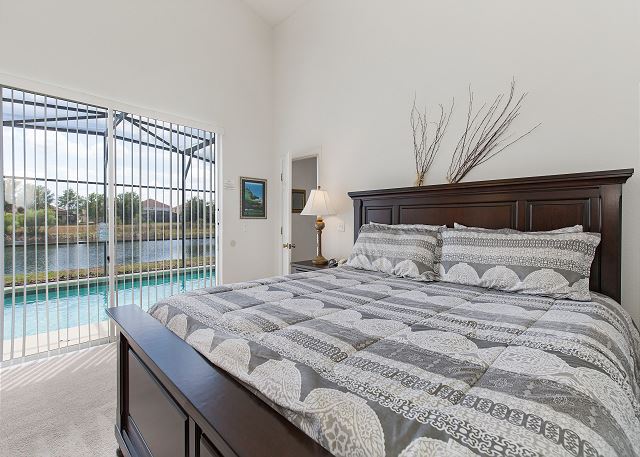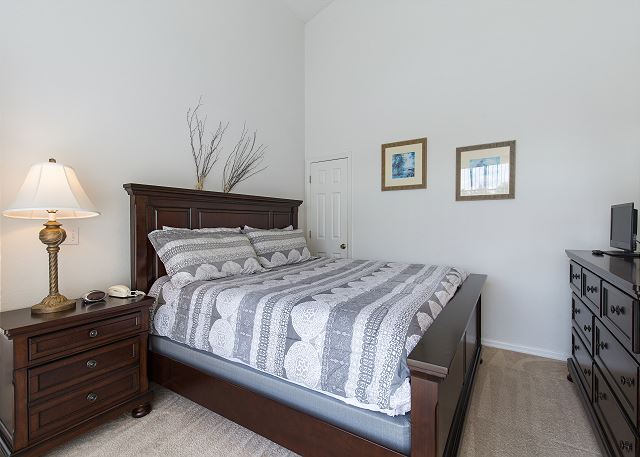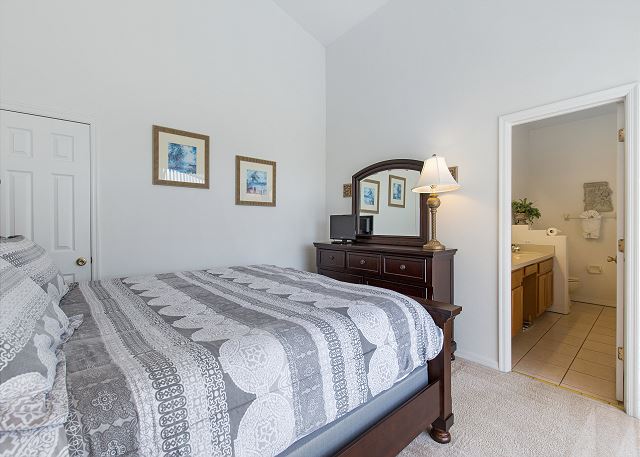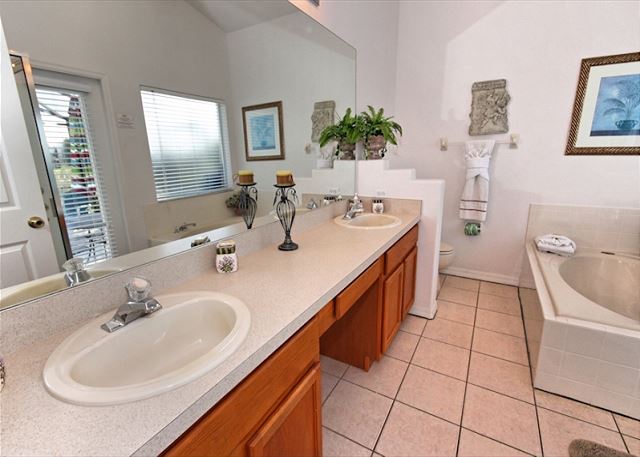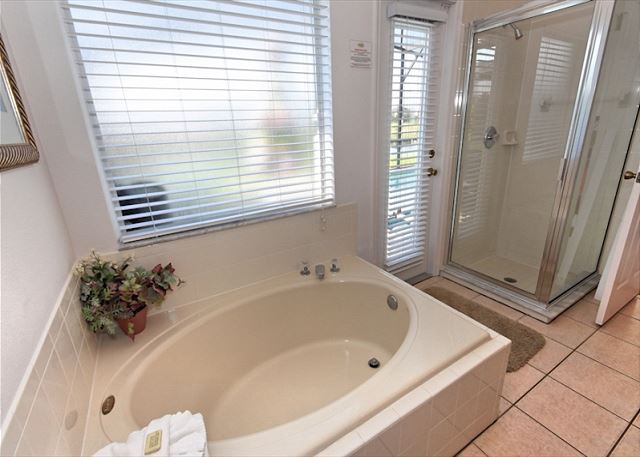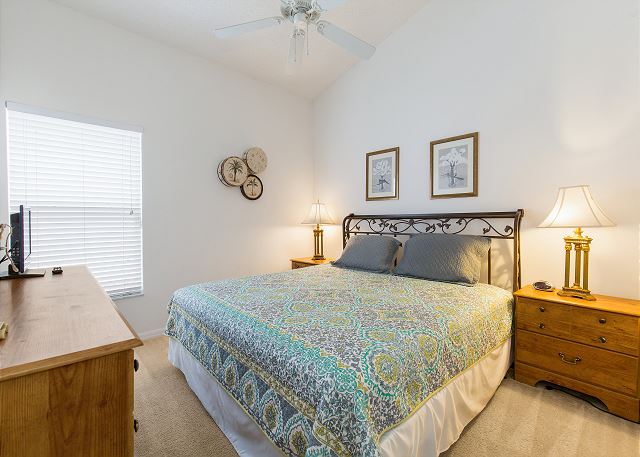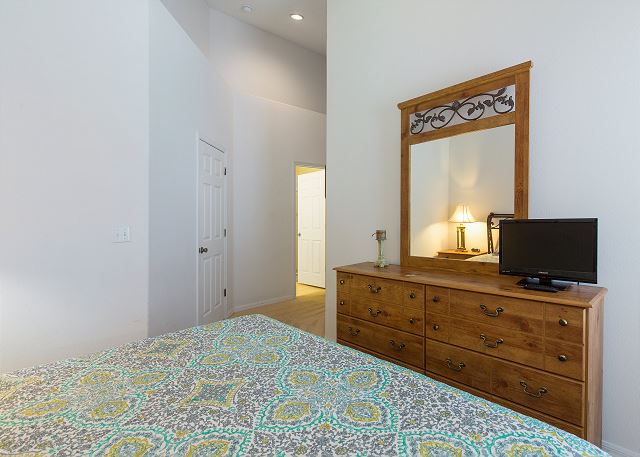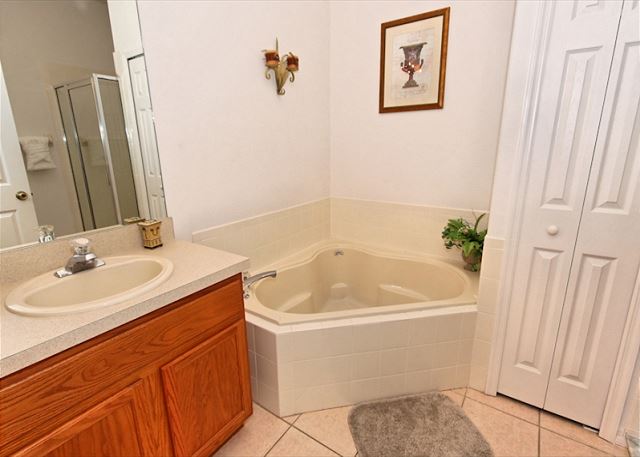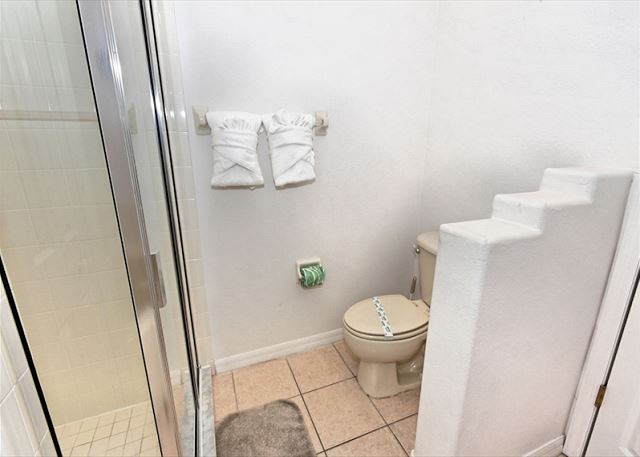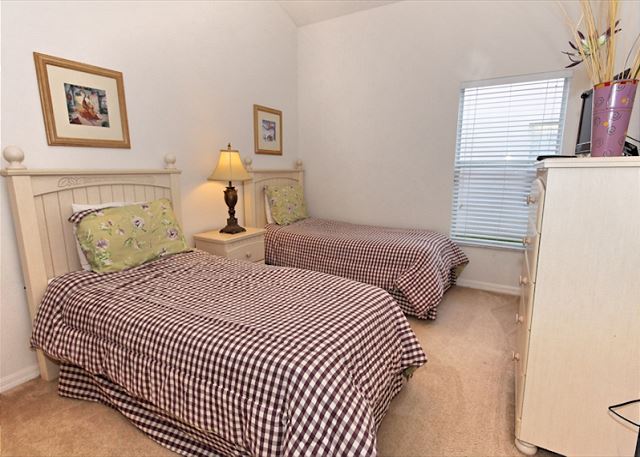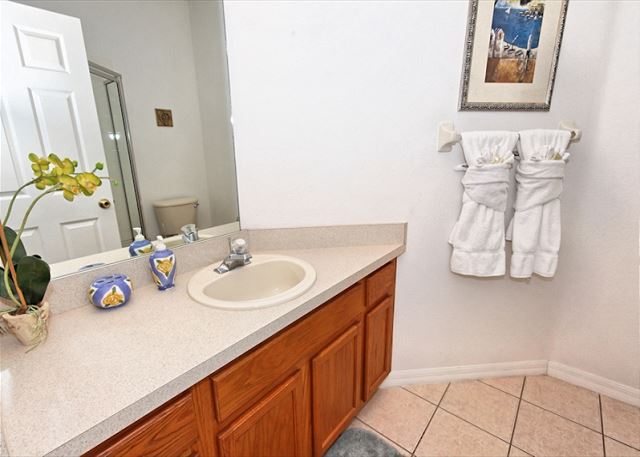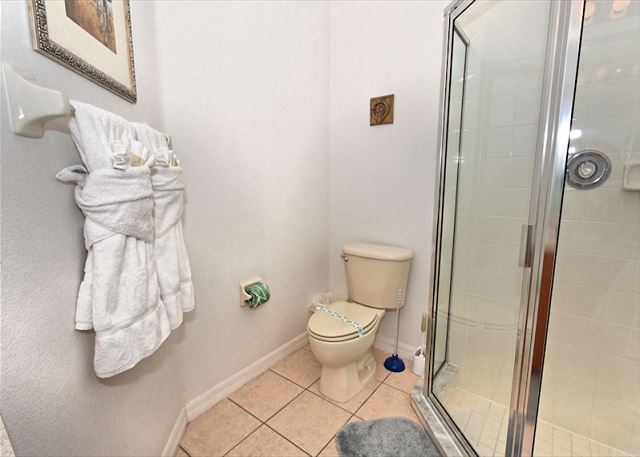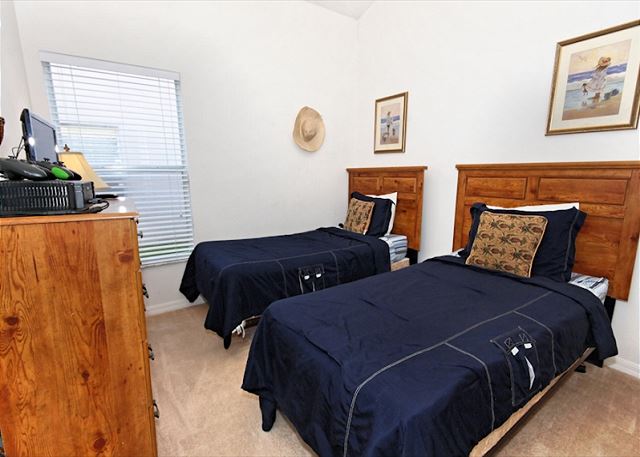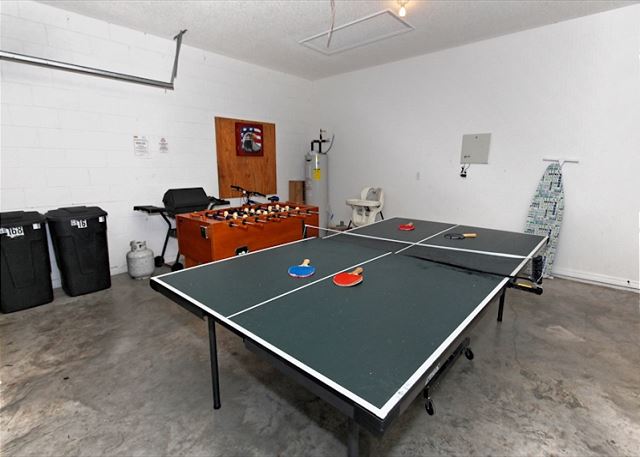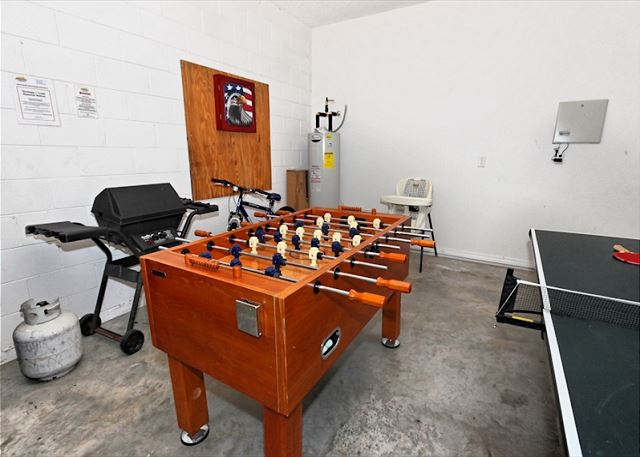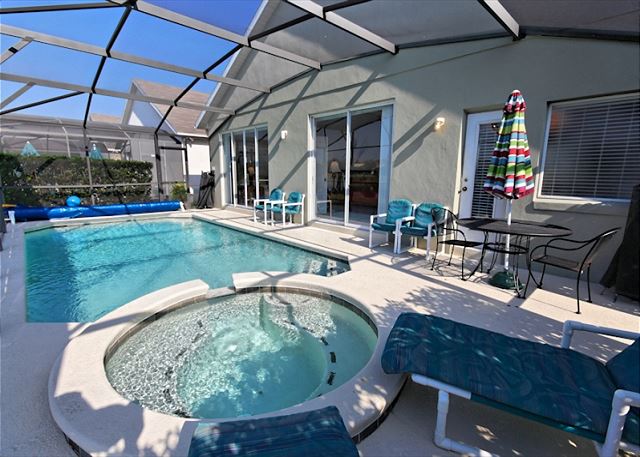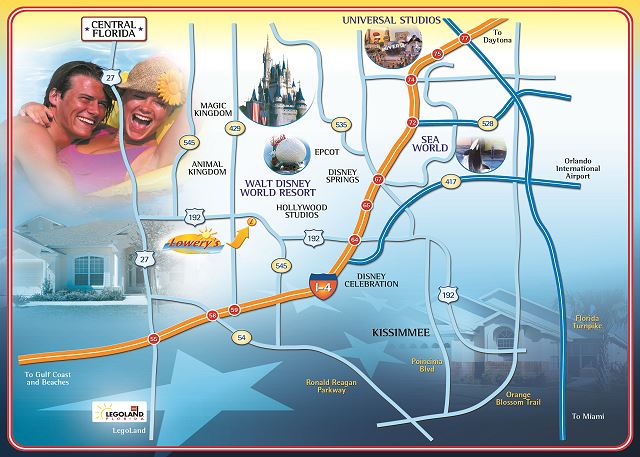 Description
This tastefully furnished lakefront pool home is located in the beautifully landscaped Glenbrook Resort. The community is quiet and well managed, and offers guests the best of both worlds with resort facilities whilst in their own self-catering private pool home.
The nicely presented home is spread out over one level and has 4 bedrooms and 3 bathrooms, it can comfortably accommodate up to 10 people. It features two master king bedrooms each with their own private ensuite bathroom, and one of these bedrooms has direct access to the lovely pool and patio area. There are a further two twin bedded rooms, and all bedrooms have their own flat screen television. Therefore providing guests with a comfortable and quiet place to retreat and take time out.
The home boasts a spacious open plan living and dining area which is overlooked by a nicely laid out and fully equipped kitchen. This family living area is light and airy and provides a fabulous place in which to enjoy time together with family and friends. The kitchen comes supplied with a wide range of utensils and modern appliances of home to make your vacation as easy and relaxing as possible. There is a further dining and living room area offering plenty of space so guests can choose to dine and relax as they please. The home has a games room with a foosball and ping pong table, and along with a PlayStation 2 and Xbox gaming console in the home there is something for everyone to enjoy playing. Guests at this home receive complimentary high speed WiFi.
Outside the home has a lovely south facing pool and spa with beautiful views out across a lake, setting the scene for a serene and relaxing environment. The surrounding pool deck area has sun loungers and a table and chairs for your comfort, a perfect place to spend time outdoors in the warm Florida weather.
The beautifully landscaped Glenbrook Resort community has a pleasant and relaxing family friendly atmosphere. It offers spacious homes with private pools in a peaceful environment, just perfect for enjoying the warm Florida climate. The resort offers guests the use of a clubhouse facility with a pool table, air hockey and an exercise room. It boasts a large community swimming pool with a waterfall feature which is nicely kept, as well as tennis and sand volleyball courts. This community operates a shuttle bus service to and from the Disney parks on a daily basis, pick-ups are made from the clubhouse.
The Glenbrook Resort is conveniently located off of Highway 27, just 2 miles north of Highway 192, providing quick and easy access to all the major Florida theme parks. The Animal Kingdom at the Disney World Resort is located very close by. Supermarkets, restaurants and a variety of shops can all be found within minutes of venturing out from your home.
2 King Beds /
4 Twin Beds /
1 Sofa Bed
Amenities
General
Air Conditioning/Heating
Ceiling Fans
Free WiFi
Phone
Washer & Dryer
Ironing Board/Iron
Linens Provided
Towels Provided
Hairdryer
Parking
Kitchen
Full Kitchen
Refrigerator
Coffee Maker
Microwave
Toaster
Cookware
Stove
Dishwasher
Dishes & Utensils
Glassware
Outdoor Features
Private Pool
Spa
Pool Deck/Patio
Entertainment
Games Room
Games Console
Television
DVD Player
Safety Features
Smoke Detector
Carbon Monoxide Detector
Fire Extinguisher
Emergency Lighting
Emergency Exit Route/Plan
Community/Resort Facilities
Swimming Pool
Clubhouse
Gym/Exercise Room
Tennis Court
Location
Disney Resort in 6 to 10 miles
Universal in 21 to 25 miles
SeaWorld in 16 to 20 miles
Restaurants within 1 mile
Shops within 1 mile
Calendar
August 2019
Sun
Mon
Tue
Wed
Thu
Fri
Sat
1
2
3
4
5
6
7
8
9
10
11
12
13
14
15
16
17
18
19
20
21
22
23
24
25
26
27
28
29
30
31
September 2019
Sun
Mon
Tue
Wed
Thu
Fri
Sat
1
2
3
4
5
6
7
8
9
10
11
12
13
14
15
16
17
18
19
20
21
22
23
24
25
26
27
28
29
30
October 2019
Sun
Mon
Tue
Wed
Thu
Fri
Sat
1
2
3
4
5
6
7
8
9
10
11
12
13
14
15
16
17
18
19
20
21
22
23
24
25
26
27
28
29
30
31
November 2019
Sun
Mon
Tue
Wed
Thu
Fri
Sat
1
2
3
4
5
6
7
8
9
10
11
12
13
14
15
16
17
18
19
20
21
22
23
24
25
26
27
28
29
30
December 2019
Sun
Mon
Tue
Wed
Thu
Fri
Sat
1
2
3
4
5
6
7
8
9
10
11
12
13
14
15
16
17
18
19
20
21
22
23
24
25
26
27
28
29
30
31
January 2020
Sun
Mon
Tue
Wed
Thu
Fri
Sat
1
2
3
4
5
6
7
8
9
10
11
12
13
14
15
16
17
18
19
20
21
22
23
24
25
26
27
28
29
30
31
February 2020
Sun
Mon
Tue
Wed
Thu
Fri
Sat
1
2
3
4
5
6
7
8
9
10
11
12
13
14
15
16
17
18
19
20
21
22
23
24
25
26
27
28
29
March 2020
Sun
Mon
Tue
Wed
Thu
Fri
Sat
1
2
3
4
5
6
7
8
9
10
11
12
13
14
15
16
17
18
19
20
21
22
23
24
25
26
27
28
29
30
31
April 2020
Sun
Mon
Tue
Wed
Thu
Fri
Sat
1
2
3
4
5
6
7
8
9
10
11
12
13
14
15
16
17
18
19
20
21
22
23
24
25
26
27
28
29
30
May 2020
Sun
Mon
Tue
Wed
Thu
Fri
Sat
1
2
3
4
5
6
7
8
9
10
11
12
13
14
15
16
17
18
19
20
21
22
23
24
25
26
27
28
29
30
31
June 2020
Sun
Mon
Tue
Wed
Thu
Fri
Sat
1
2
3
4
5
6
7
8
9
10
11
12
13
14
15
16
17
18
19
20
21
22
23
24
25
26
27
28
29
30
July 2020
Sun
Mon
Tue
Wed
Thu
Fri
Sat
1
2
3
4
5
6
7
8
9
10
11
12
13
14
15
16
17
18
19
20
21
22
23
24
25
26
27
28
29
30
31
August 2020
Sun
Mon
Tue
Wed
Thu
Fri
Sat
1
2
3
4
5
6
7
8
9
10
11
12
13
14
15
16
17
18
19
20
21
22
23
24
25
26
27
28
29
30
31