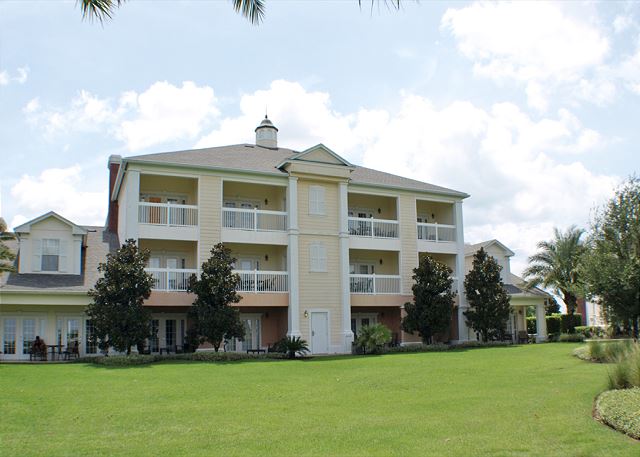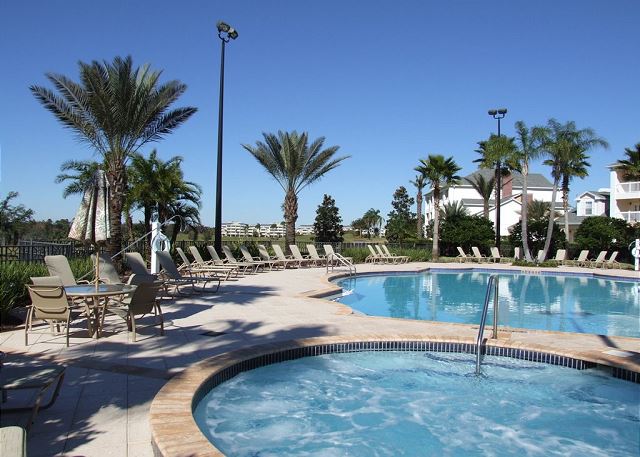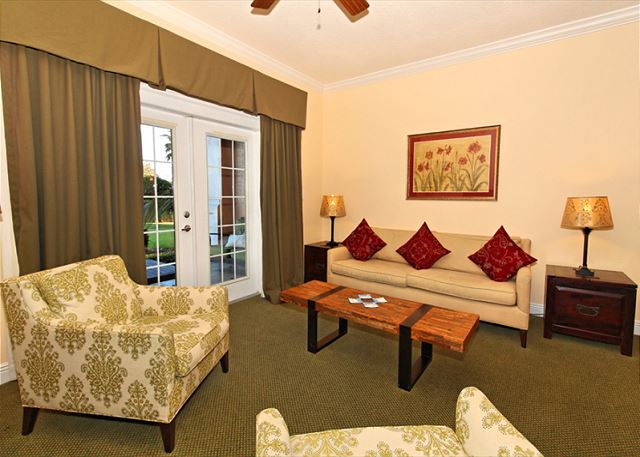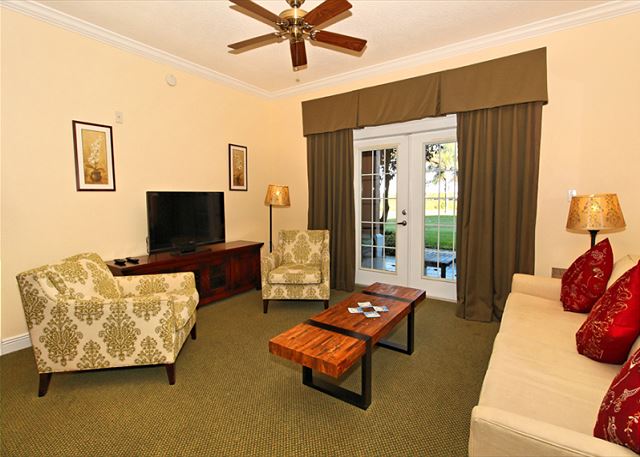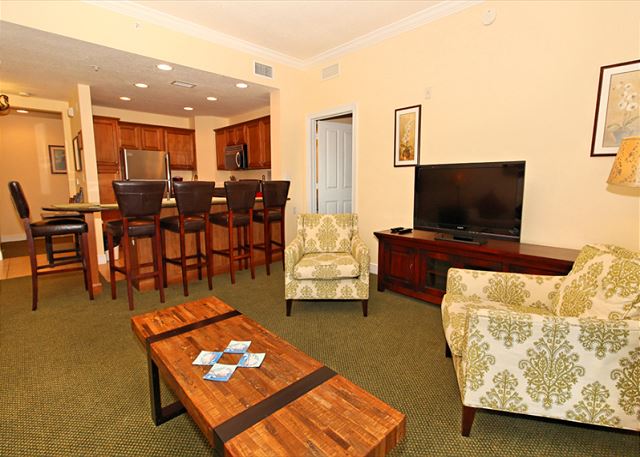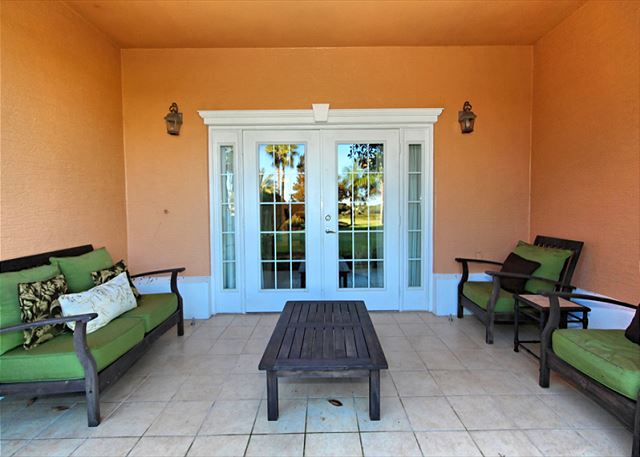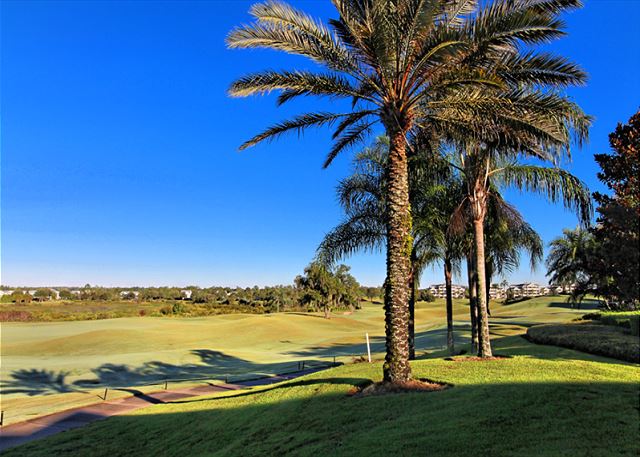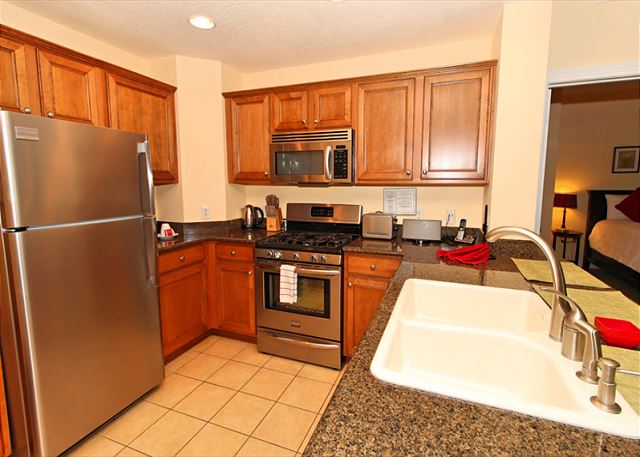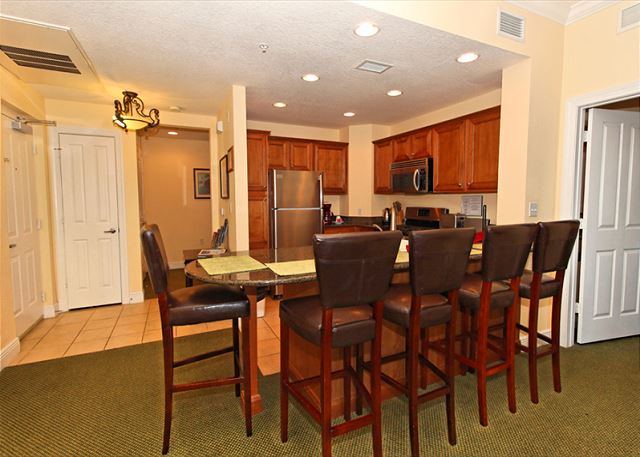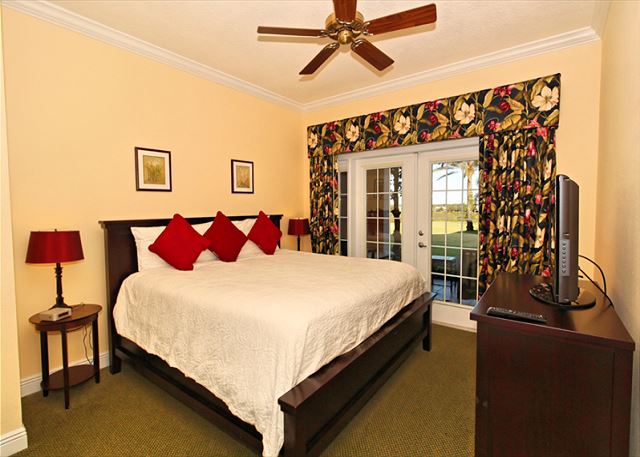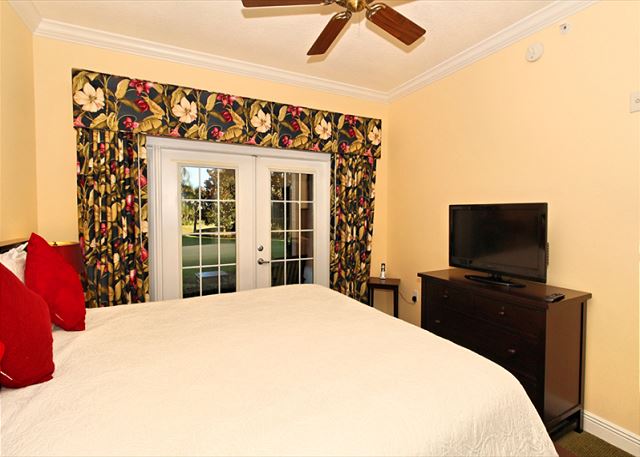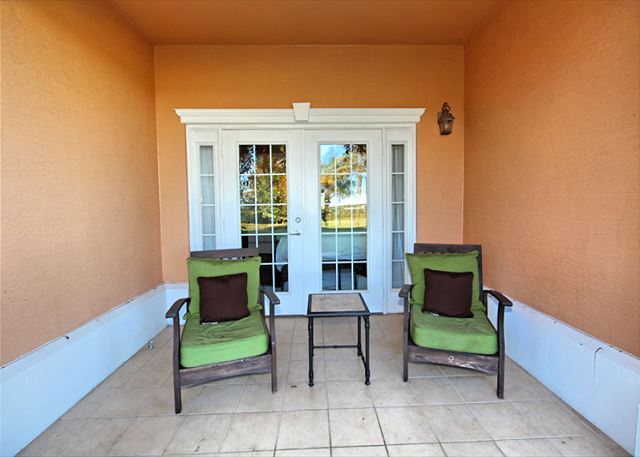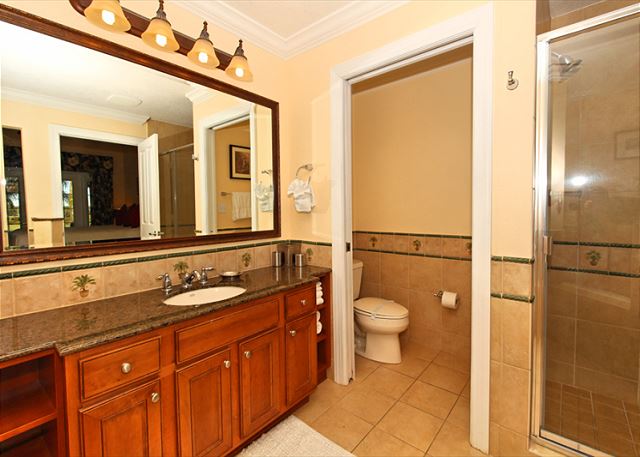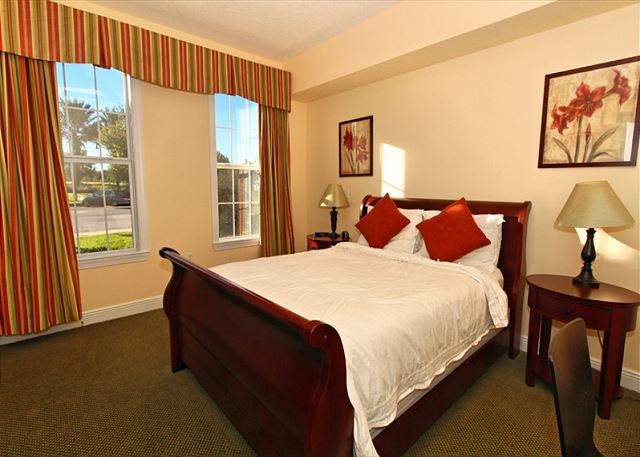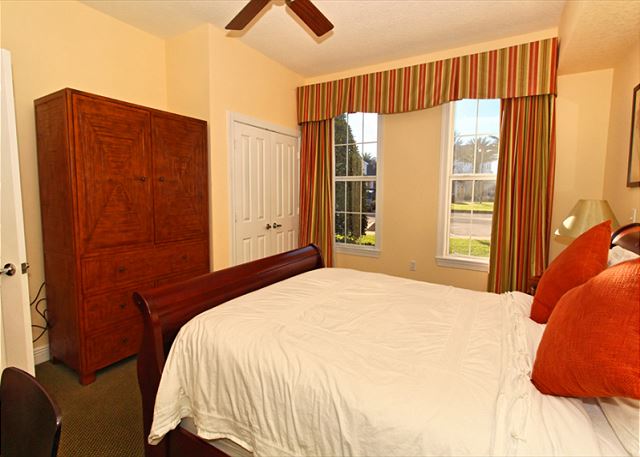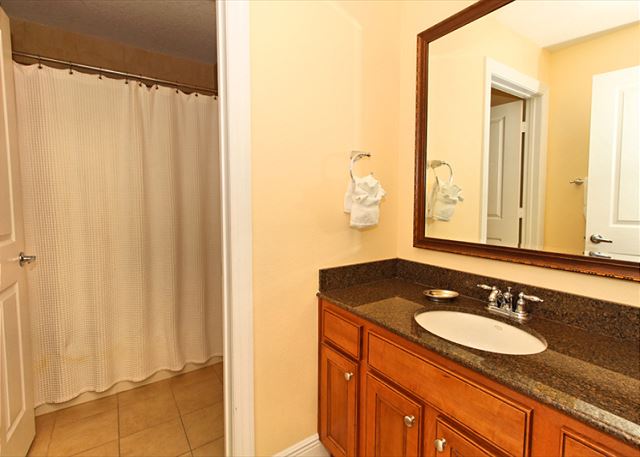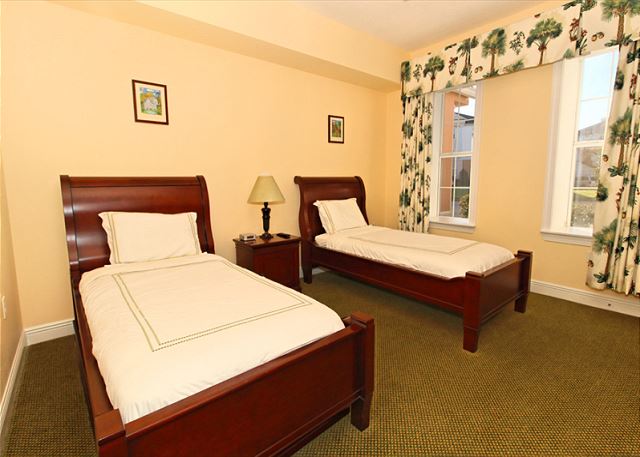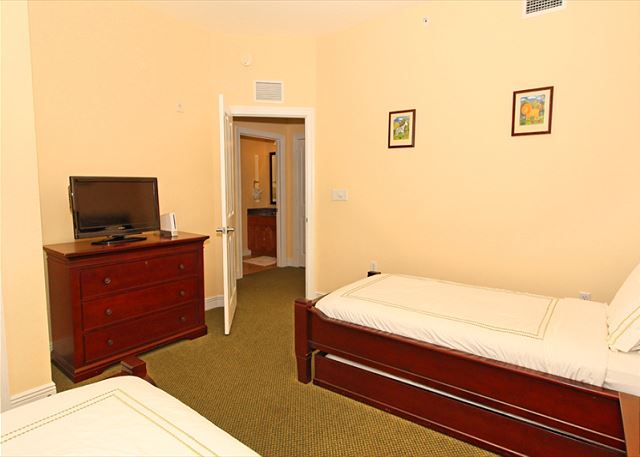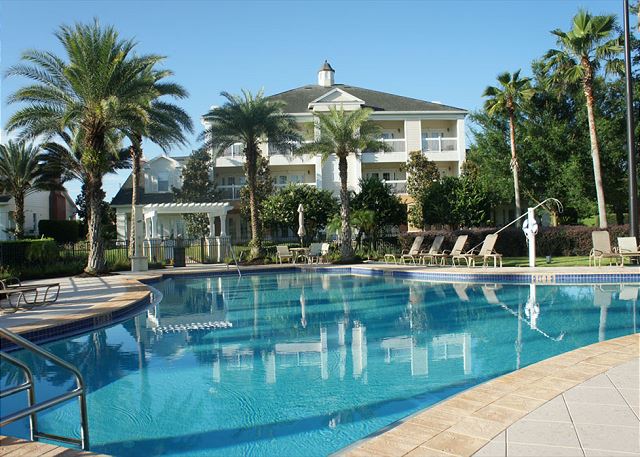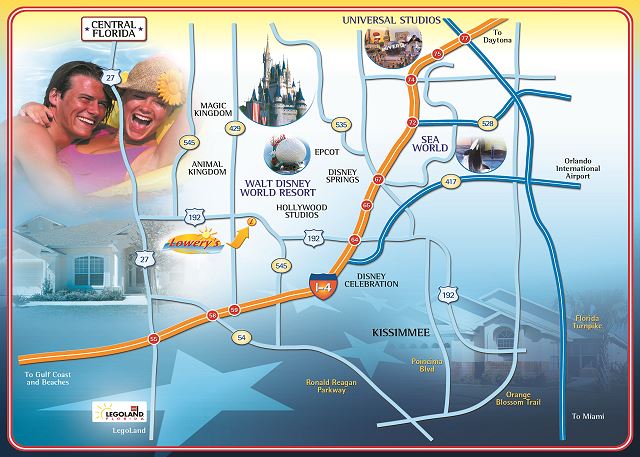 Description
A spacious and nicely appointed first floor condo situated in the stunning Reunion Resort, conveniently located just a short drive from the Disney World Resort. This beautifully landscaped resort has a 24 hour security guarded gate and offers guests a wonderful array of resort facilities.
The condo sits on the 11th hole of the Palmer Golf Course and has amazing views out across the golf course. It comprises of 3 bedrooms and 2 bathrooms providing accommodation for up to 6 people. The home features a master king bedroom with a nice ensuite bathroom and direct access to a private patio area. The patio contains chairs so that you can sit and enjoy the peace and quiet of the vista across the golf course. All of the bedrooms in the home have their own flat screen television so that guests can unwind in the privacy of their own room.
The home has been professionally designed and decorated and has a fully fitted kitchen equipped with everyday modern appliances and utensils so as to make your stay comfortable. The family room and dining area offers plenty of space in which family and friends can enjoy vacation time together. Guests at this home also receive complimentary high speed WiFi.
The condo features an outside patio space that sits off of the family room. This has a comfortable outdoor sofa, table and chairs so that you can relax and enjoy the warm Florida climate and take in the lovely views. Just a few steps away out of your back door you will find the beautiful Heritage Crossing community pool which is available for your use.
Reunion is a stunning and immaculately maintained resort and features an amazing array of facilities in a beautiful location. It offers guests the ultimate vacation experience and is conveniently located just minutes from the main gate of the Disney World Resort. The Reunion Resort has a myriad of amenities, almost too many to mention! There is an abundance of restaurants offering many different dining experiences, you will certainly be spoilt for choice. It is the perfect location from which to explore the Florida theme parks, take a drive to the Gulf Coast beaches or enjoy outstanding shopping experiences. You will never run out of things to see and do in this beautiful Florida paradise.
Reunion Resort is conveniently situated south of Interstate 4 making it an ideal location from which to explore Orlando. It is a very short drive to the Disney World Resort and other major theme parks are also easily accessed. Located close by is a huge variety of restaurants, supermarkets and retail outlets, these can all be found within a few minutes of leaving the resort.
1 King Bed /
1 Queen Bed /
2 Twin Beds
Amenities
General
Air Conditioning/Heating
Ceiling Fans
Free WiFi
Phone
Washer & Dryer
Ironing Board/Iron
Linens Provided
Towels Provided
Hairdryer
Parking
Kitchen
Full Kitchen
Refrigerator
Coffee Maker
Microwave
Toaster
Cookware
Stove
Dishwasher
Dishes & Utensils
Outdoor Features
Patio
Entertainment
Games Console
Television
DVD Player
Safety Features
Smoke Detector
Carbon Monoxide Detector
Fire Extinguisher
Emergency Lighting
Emergency Exit Route/Plan
Community/Resort Facilities
Gated/Secure Community
Swimming Pool
Clubhouse
Hot Tub
Gym/Exercise Room
Children's Play Area
Location
Disney Resort in 6 to 10 miles
Universal in 16 to 20 miles
SeaWorld in 16 to 20 miles
Restaurants within 1 mile
Shops within 1 mile
Calendar
July 2019
Sun
Mon
Tue
Wed
Thu
Fri
Sat
1
2
3
4
5
6
7
8
9
10
11
12
13
14
15
16
17
18
19
20
21
22
23
24
25
26
27
28
29
30
31
August 2019
Sun
Mon
Tue
Wed
Thu
Fri
Sat
1
2
3
4
5
6
7
8
9
10
11
12
13
14
15
16
17
18
19
20
21
22
23
24
25
26
27
28
29
30
31
September 2019
Sun
Mon
Tue
Wed
Thu
Fri
Sat
1
2
3
4
5
6
7
8
9
10
11
12
13
14
15
16
17
18
19
20
21
22
23
24
25
26
27
28
29
30
October 2019
Sun
Mon
Tue
Wed
Thu
Fri
Sat
1
2
3
4
5
6
7
8
9
10
11
12
13
14
15
16
17
18
19
20
21
22
23
24
25
26
27
28
29
30
31
November 2019
Sun
Mon
Tue
Wed
Thu
Fri
Sat
1
2
3
4
5
6
7
8
9
10
11
12
13
14
15
16
17
18
19
20
21
22
23
24
25
26
27
28
29
30
December 2019
Sun
Mon
Tue
Wed
Thu
Fri
Sat
1
2
3
4
5
6
7
8
9
10
11
12
13
14
15
16
17
18
19
20
21
22
23
24
25
26
27
28
29
30
31
January 2020
Sun
Mon
Tue
Wed
Thu
Fri
Sat
1
2
3
4
5
6
7
8
9
10
11
12
13
14
15
16
17
18
19
20
21
22
23
24
25
26
27
28
29
30
31
February 2020
Sun
Mon
Tue
Wed
Thu
Fri
Sat
1
2
3
4
5
6
7
8
9
10
11
12
13
14
15
16
17
18
19
20
21
22
23
24
25
26
27
28
29
March 2020
Sun
Mon
Tue
Wed
Thu
Fri
Sat
1
2
3
4
5
6
7
8
9
10
11
12
13
14
15
16
17
18
19
20
21
22
23
24
25
26
27
28
29
30
31
April 2020
Sun
Mon
Tue
Wed
Thu
Fri
Sat
1
2
3
4
5
6
7
8
9
10
11
12
13
14
15
16
17
18
19
20
21
22
23
24
25
26
27
28
29
30
May 2020
Sun
Mon
Tue
Wed
Thu
Fri
Sat
1
2
3
4
5
6
7
8
9
10
11
12
13
14
15
16
17
18
19
20
21
22
23
24
25
26
27
28
29
30
31
June 2020
Sun
Mon
Tue
Wed
Thu
Fri
Sat
1
2
3
4
5
6
7
8
9
10
11
12
13
14
15
16
17
18
19
20
21
22
23
24
25
26
27
28
29
30
July 2020
Sun
Mon
Tue
Wed
Thu
Fri
Sat
1
2
3
4
5
6
7
8
9
10
11
12
13
14
15
16
17
18
19
20
21
22
23
24
25
26
27
28
29
30
31