Townhome in a Quiet Village Style Community, Located Just 7 Miles to Disney!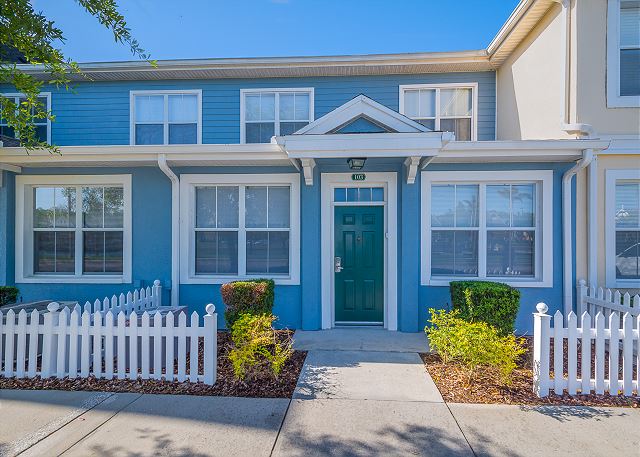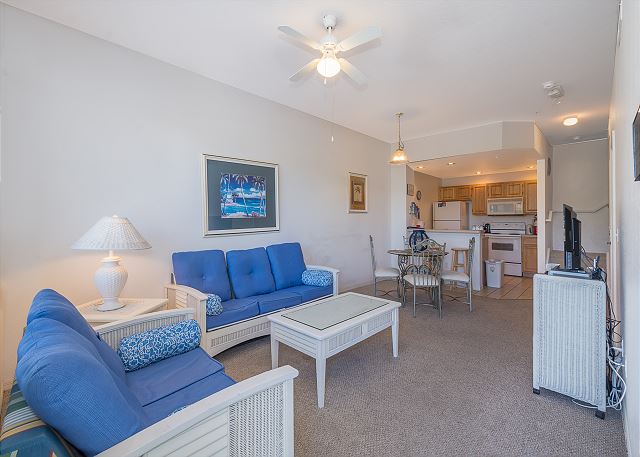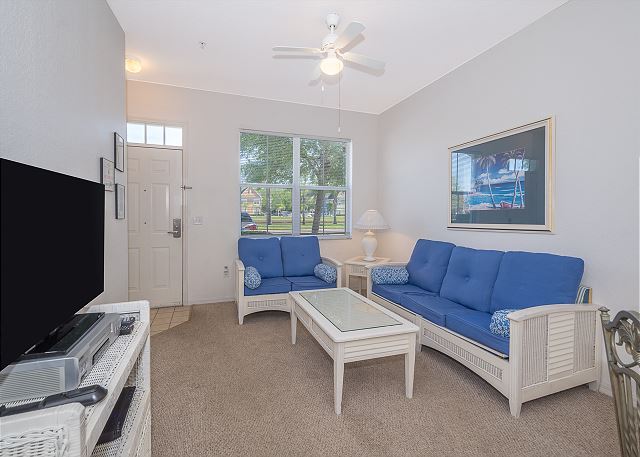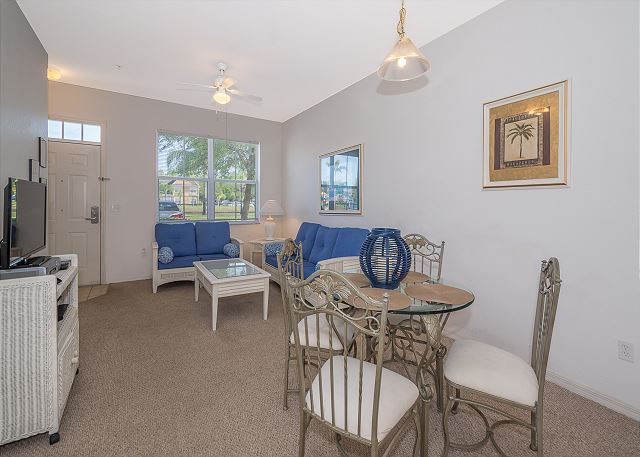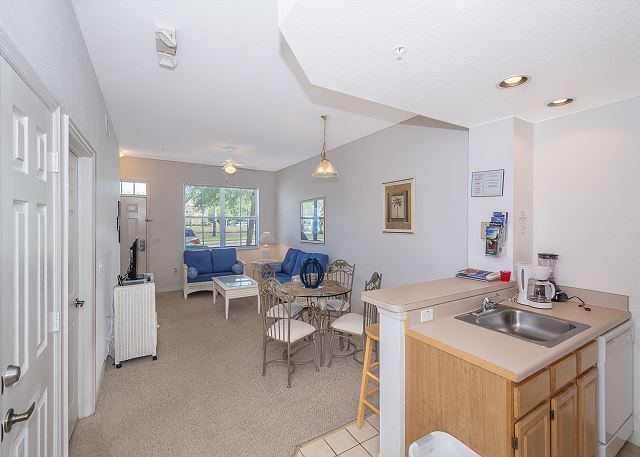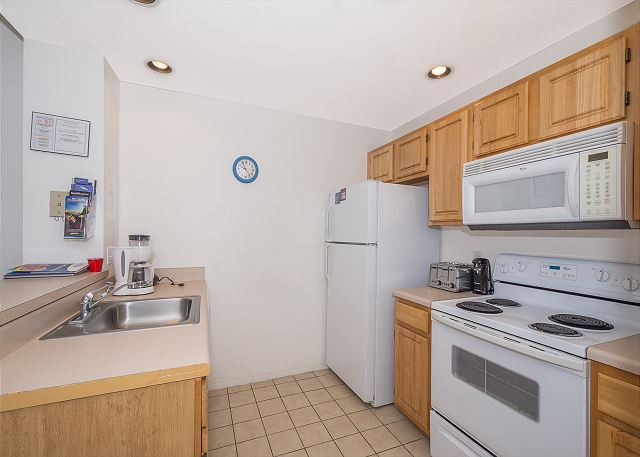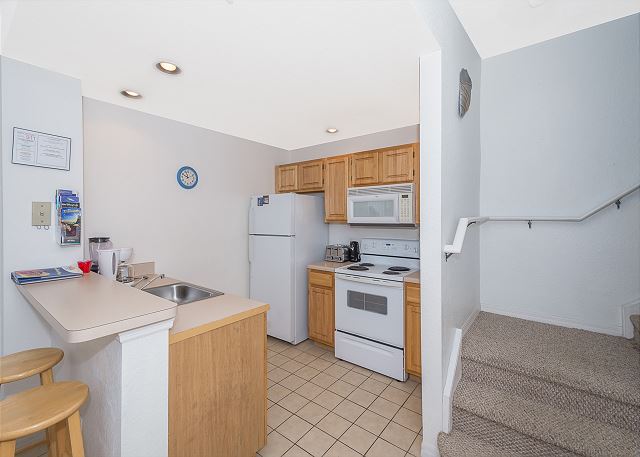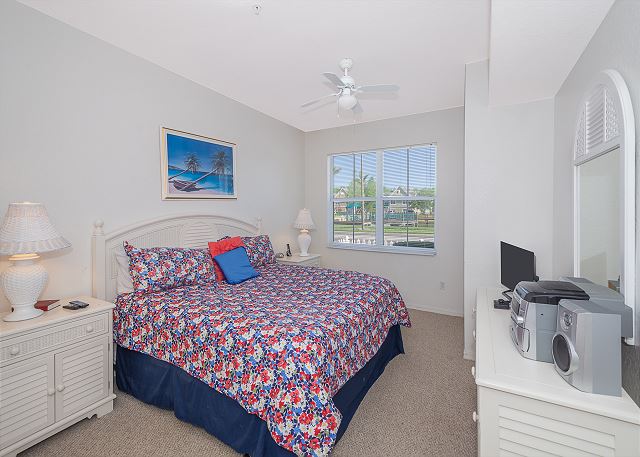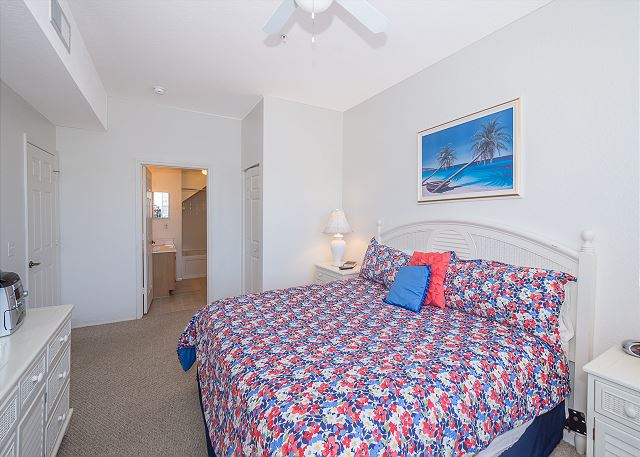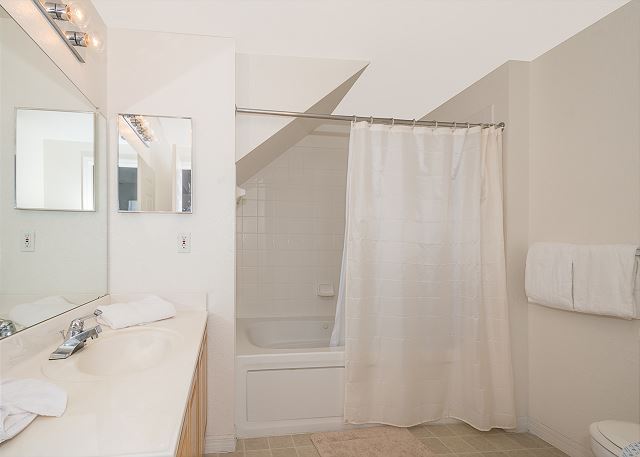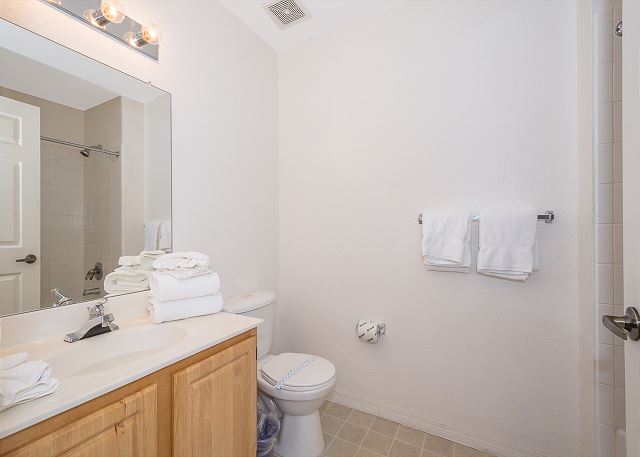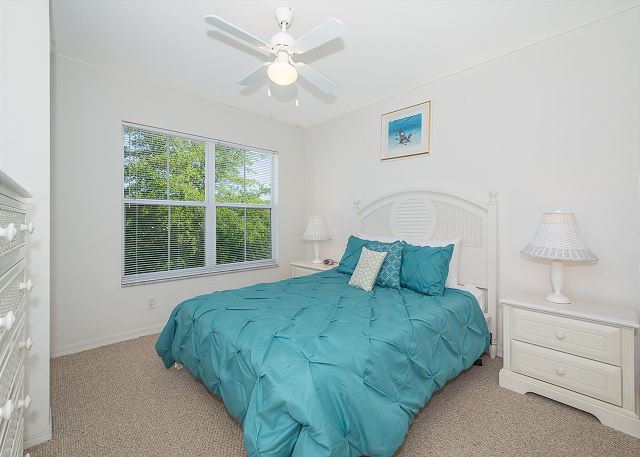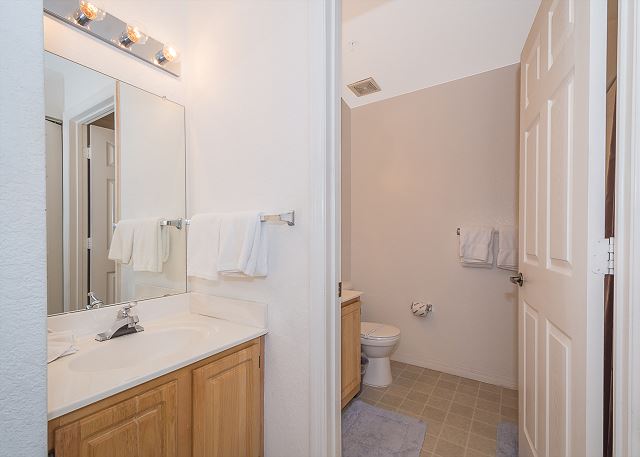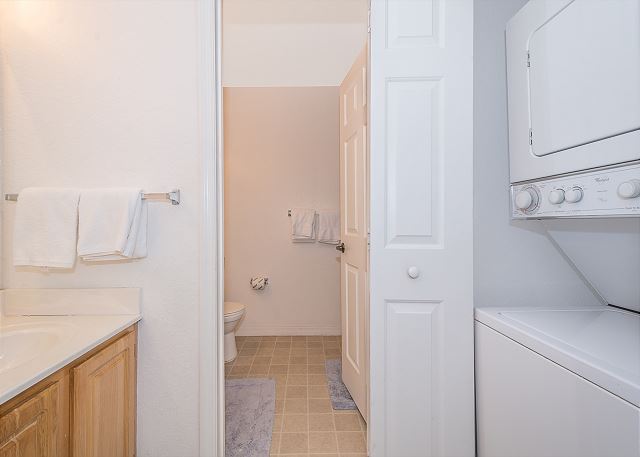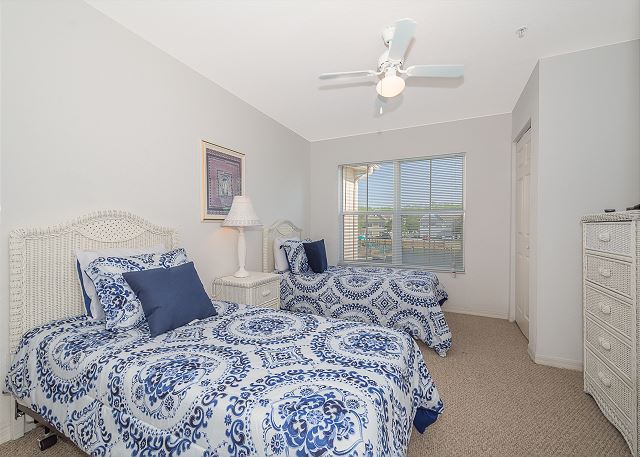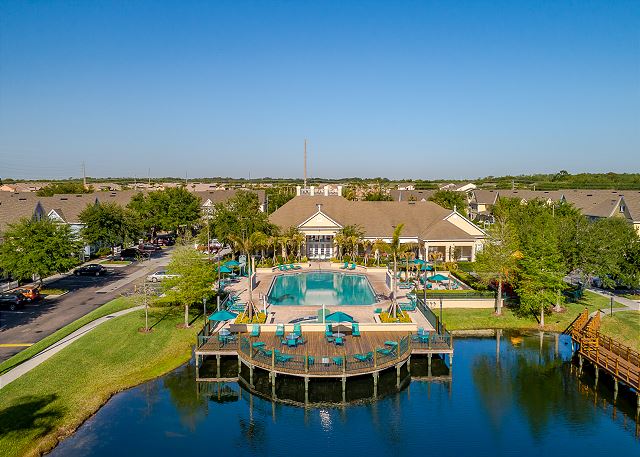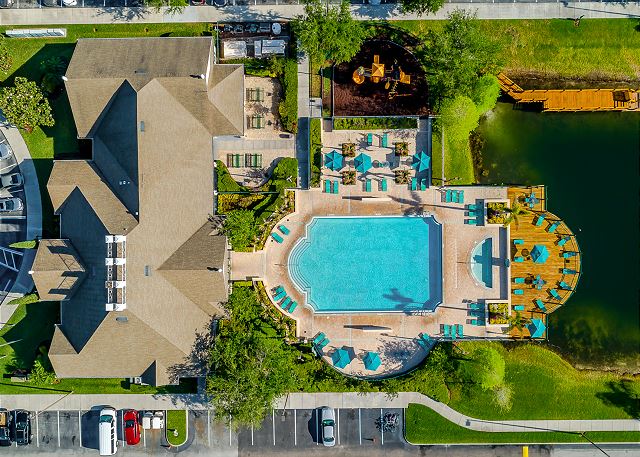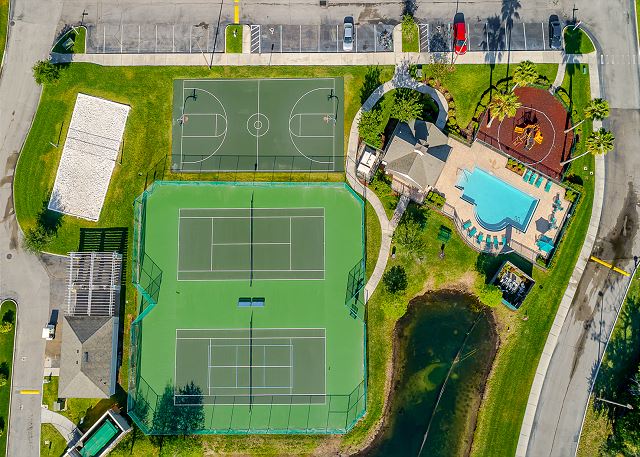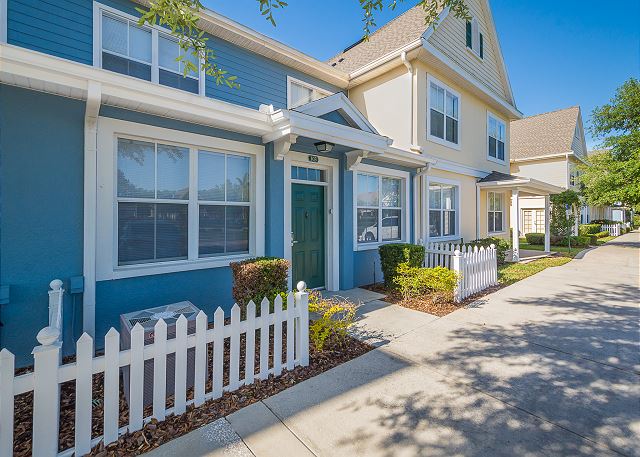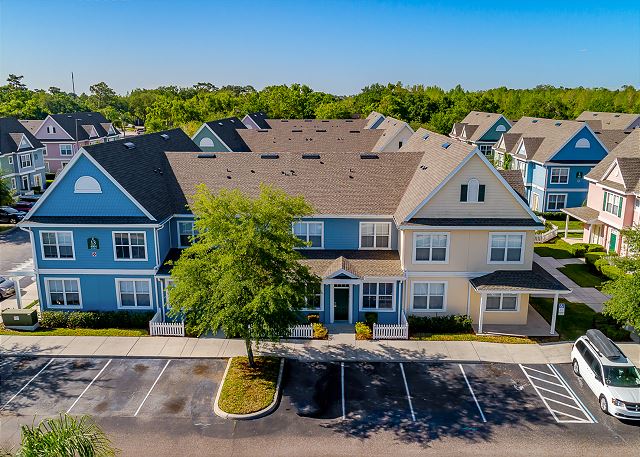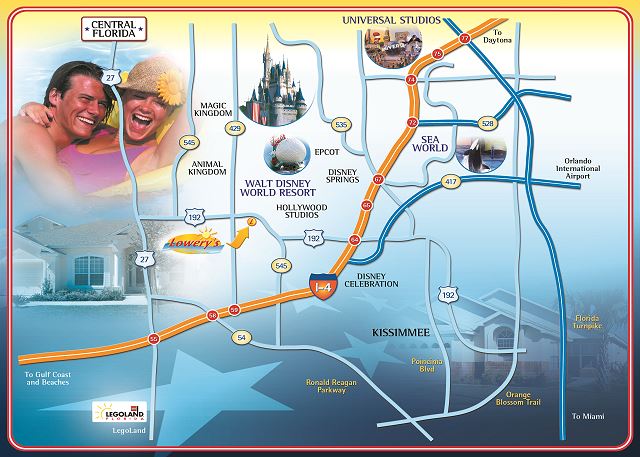 Description
This two story townhome is located in the private gated community of Venetian Bay. A nicely planned community of townhomes designed in a village concept offering an array of resort style facilities. Venetian Bay offers a perfect base from which to explore the many attractions that Orlando has to offer, with the Disney World Resort being just a short distance away. Guests staying at this vacation townhome receive complimentary express check in.
This home comprises of 3 bedrooms and 2 bathrooms and accommodates up to 8 people over two floors. It features a master king bedroom on the first floor and the ensuite bathroom has a nice spa tub. Upstairs there are two further bedrooms, one with a queen size bed and the other comprises of twin beds. The light and airy family room is open plan to the kitchen which features a breakfast bar. The kitchen is fully equipped with modern appliances and the utensils necessary to make your vacation comfortable. For guest entertainment a games console is provided along with complimentary high speed WiFI.
The home benefits from a pretty panoramic view of a lake. In fact all the rooms within the home directly face the lake and are therefore not overlooked, providing privacy for guests. The townhome is ideally located close to the swimming pools with cabana area, children's playground and a fitness center.
Venetian Bay is a secure gated vacation home community of townhomes. The homes have been carefully dispersed in a village concept surrounding a resort style clubhouse and recreation complex.
The community facilities include a choice of pools and spa with sun loungers and cabana area. A clubhouse sits at the heart of the resort and overlooks a small lake with a water fountain feature. There is a tennis, basketball and volleyball court along with a children's playground. There is also a barbeque area for guest use so that you can enjoy cooking outdoors in the warm Florida climate.
Venetian Bay is conveniently situated just off of Highway 192 and close to the Osceola Parkway providing quick and easy access to the theme parks. Disney World Resort is just a short drive away. Supermarkets, restaurants and shopping facilities can all be found within minutes of venturing out from your holiday home.
1 King Bed /
1 Queen Bed /
2 Twin Beds /
1 Sofa Bed
Amenities
General
Air Conditioning/Heating
Ceiling Fans
Free WiFi
Phone
Washer & Dryer
Ironing Board/Iron
Linens Provided
Towels Provided
Hairdryer
Parking
Kitchen
Full Kitchen
Breakfast Bar
Refrigerator
Coffee Maker
Microwave
Toaster
Cookware
Stove
Dishwasher
Dishes & Utensils
Glassware
Entertainment
Games Console
Television
DVD Player
Safety Features
Smoke Detector
Carbon Monoxide Detector
Fire Extinguisher
Emergency Lighting
Emergency Exit Route/Plan
Community/Resort Facilities
Gated/Secure Community
Swimming Pool
Clubhouse
Hot Tub
Gym/Exercise Room
Tennis Court
Children's Play Area
BBQ
Location
Disney Resort in 6 to 10 miles
Universal in 16 to 20 miles
SeaWorld in 11 to 15 miles
Restaurants within 2 miles
Shops within 2 miles
Calendar
July 2019
Sun
Mon
Tue
Wed
Thu
Fri
Sat
1
2
3
4
5
6
7
8
9
10
11
12
13
14
15
16
17
18
19
20
21
22
23
24
25
26
27
28
29
30
31
August 2019
Sun
Mon
Tue
Wed
Thu
Fri
Sat
1
2
3
4
5
6
7
8
9
10
11
12
13
14
15
16
17
18
19
20
21
22
23
24
25
26
27
28
29
30
31
September 2019
Sun
Mon
Tue
Wed
Thu
Fri
Sat
1
2
3
4
5
6
7
8
9
10
11
12
13
14
15
16
17
18
19
20
21
22
23
24
25
26
27
28
29
30
October 2019
Sun
Mon
Tue
Wed
Thu
Fri
Sat
1
2
3
4
5
6
7
8
9
10
11
12
13
14
15
16
17
18
19
20
21
22
23
24
25
26
27
28
29
30
31
November 2019
Sun
Mon
Tue
Wed
Thu
Fri
Sat
1
2
3
4
5
6
7
8
9
10
11
12
13
14
15
16
17
18
19
20
21
22
23
24
25
26
27
28
29
30
December 2019
Sun
Mon
Tue
Wed
Thu
Fri
Sat
1
2
3
4
5
6
7
8
9
10
11
12
13
14
15
16
17
18
19
20
21
22
23
24
25
26
27
28
29
30
31
January 2020
Sun
Mon
Tue
Wed
Thu
Fri
Sat
1
2
3
4
5
6
7
8
9
10
11
12
13
14
15
16
17
18
19
20
21
22
23
24
25
26
27
28
29
30
31
February 2020
Sun
Mon
Tue
Wed
Thu
Fri
Sat
1
2
3
4
5
6
7
8
9
10
11
12
13
14
15
16
17
18
19
20
21
22
23
24
25
26
27
28
29
March 2020
Sun
Mon
Tue
Wed
Thu
Fri
Sat
1
2
3
4
5
6
7
8
9
10
11
12
13
14
15
16
17
18
19
20
21
22
23
24
25
26
27
28
29
30
31
April 2020
Sun
Mon
Tue
Wed
Thu
Fri
Sat
1
2
3
4
5
6
7
8
9
10
11
12
13
14
15
16
17
18
19
20
21
22
23
24
25
26
27
28
29
30
May 2020
Sun
Mon
Tue
Wed
Thu
Fri
Sat
1
2
3
4
5
6
7
8
9
10
11
12
13
14
15
16
17
18
19
20
21
22
23
24
25
26
27
28
29
30
31
June 2020
Sun
Mon
Tue
Wed
Thu
Fri
Sat
1
2
3
4
5
6
7
8
9
10
11
12
13
14
15
16
17
18
19
20
21
22
23
24
25
26
27
28
29
30
July 2020
Sun
Mon
Tue
Wed
Thu
Fri
Sat
1
2
3
4
5
6
7
8
9
10
11
12
13
14
15
16
17
18
19
20
21
22
23
24
25
26
27
28
29
30
31