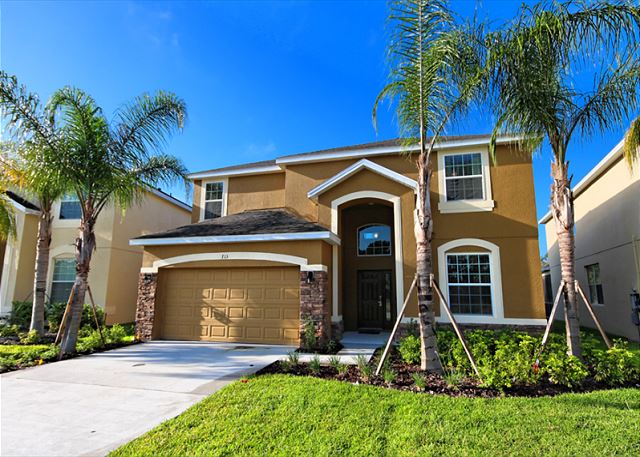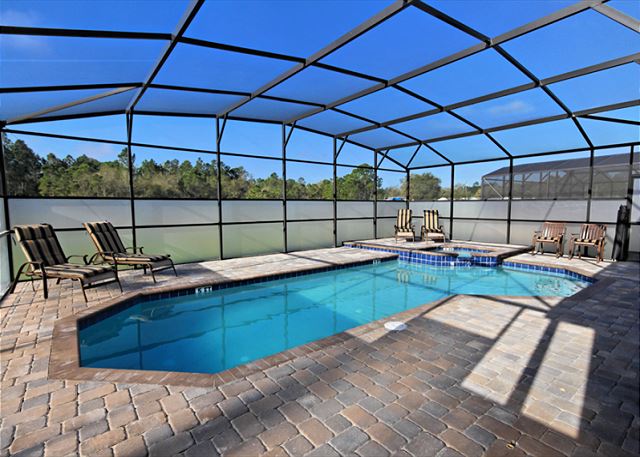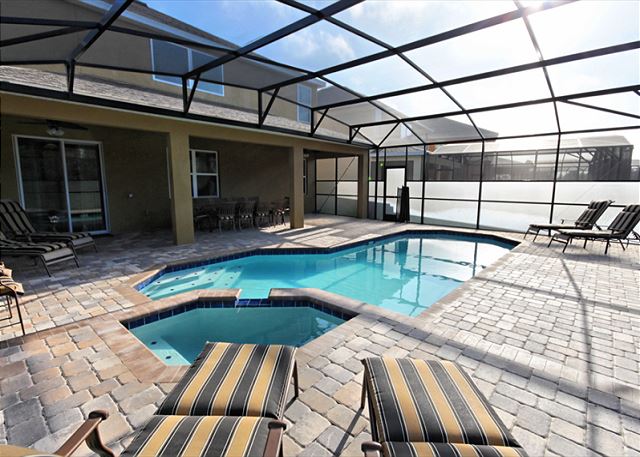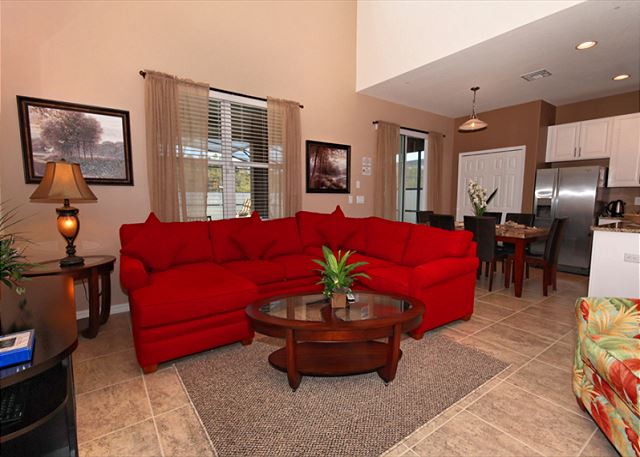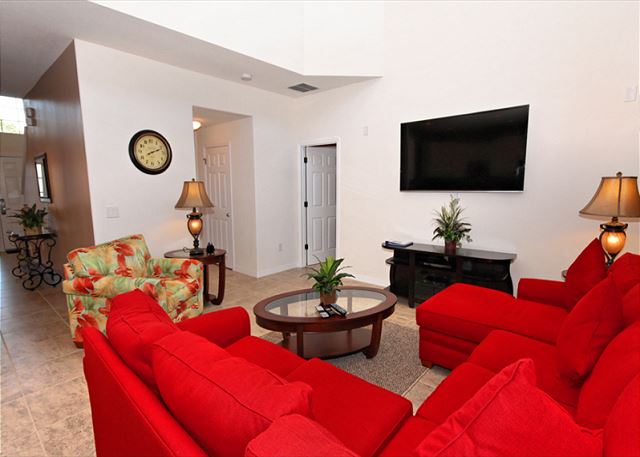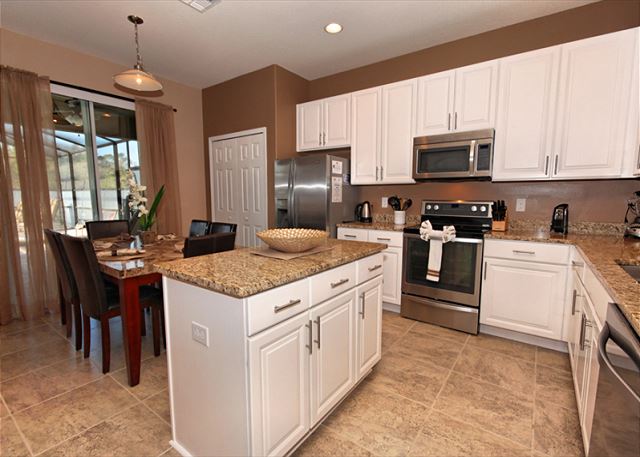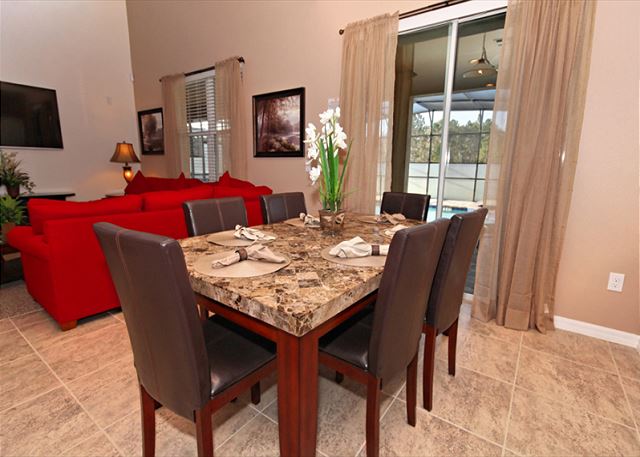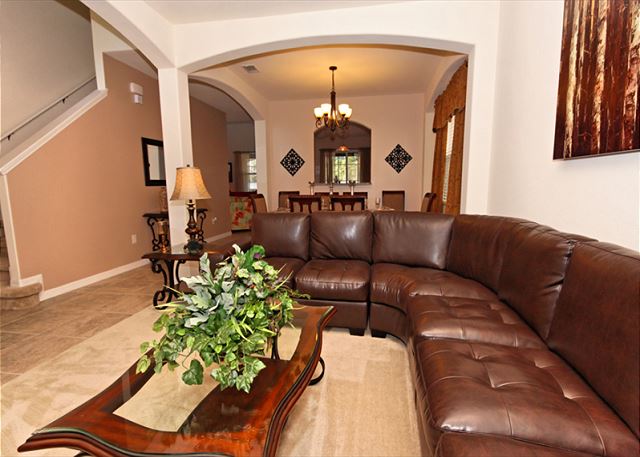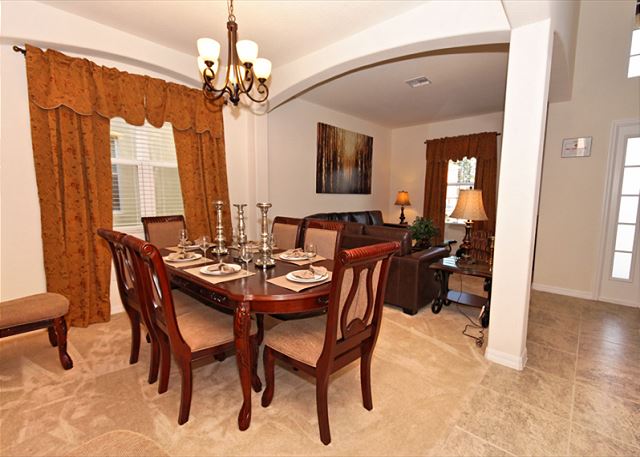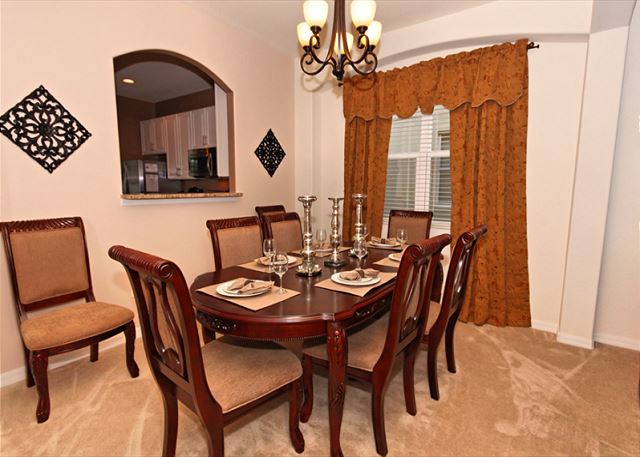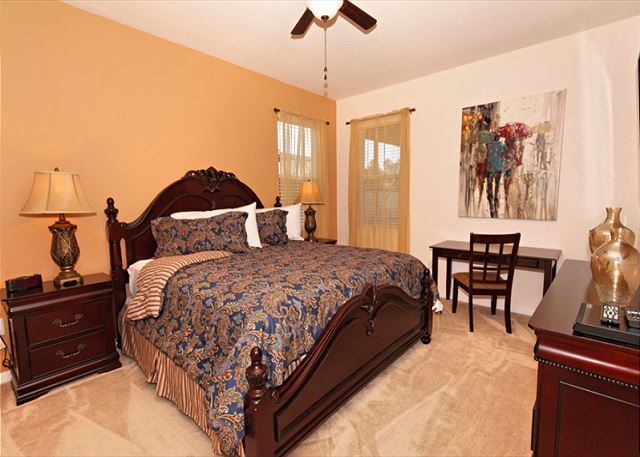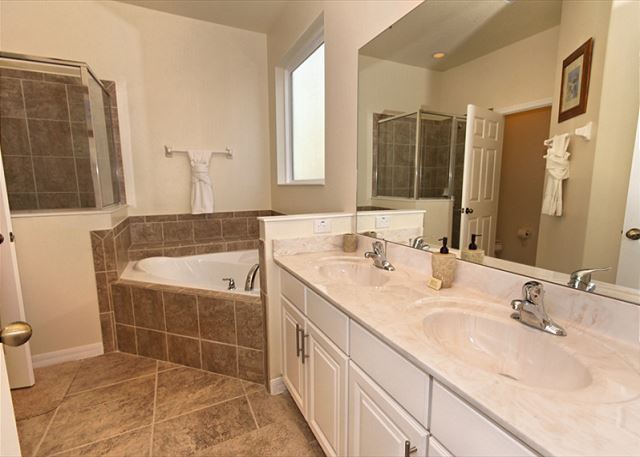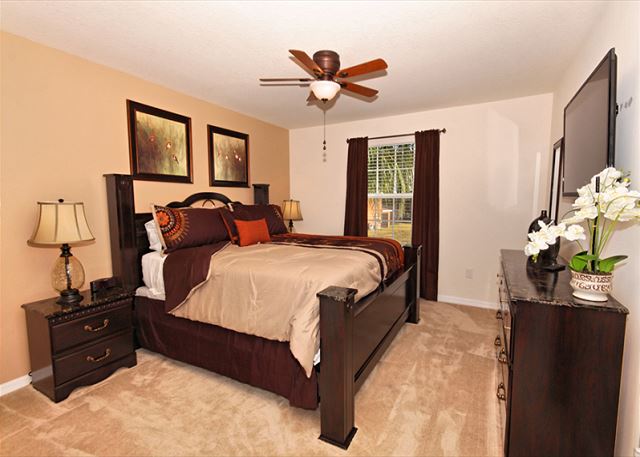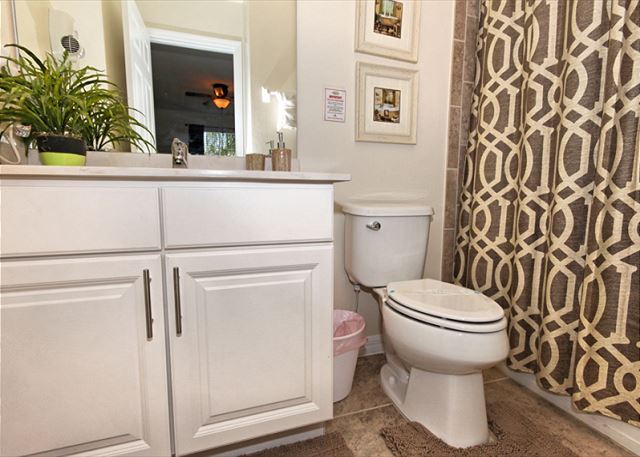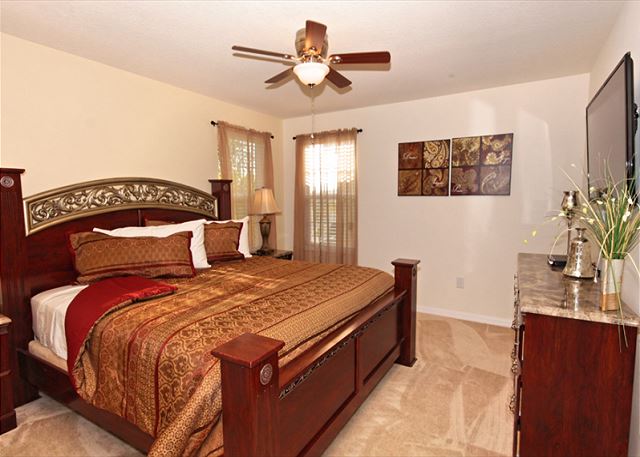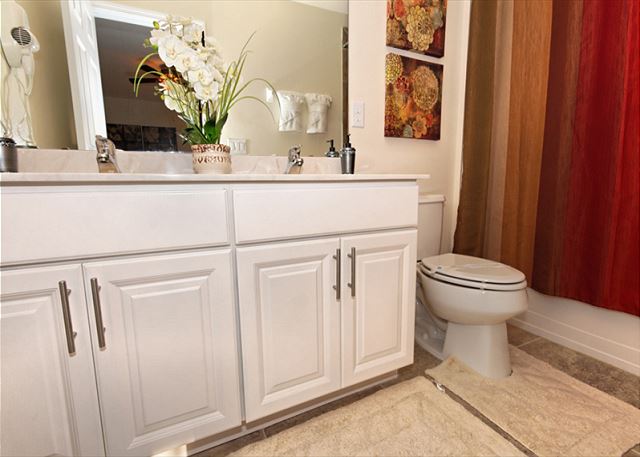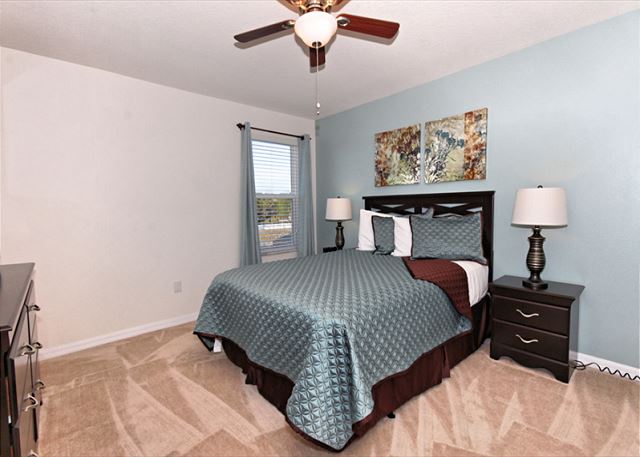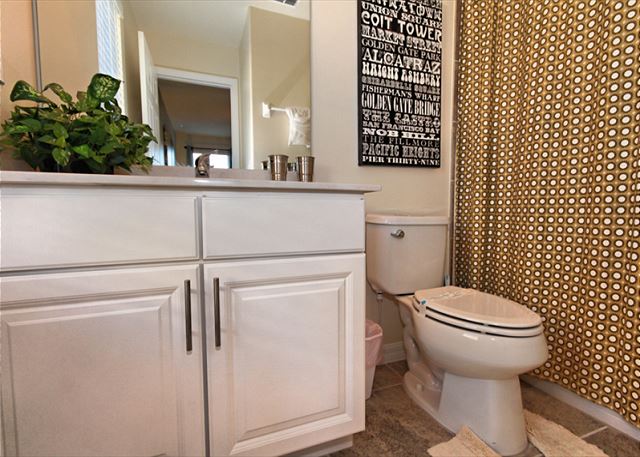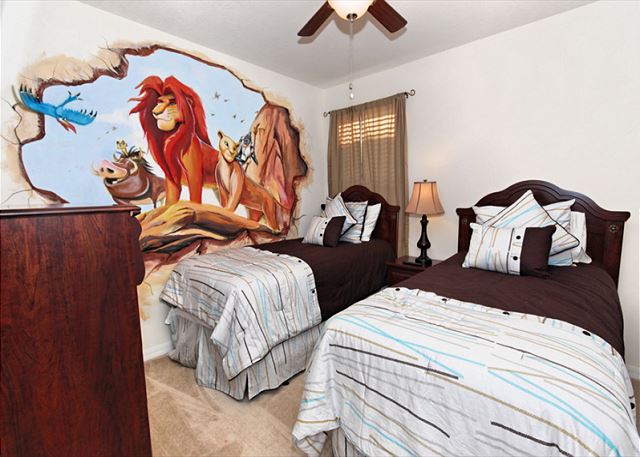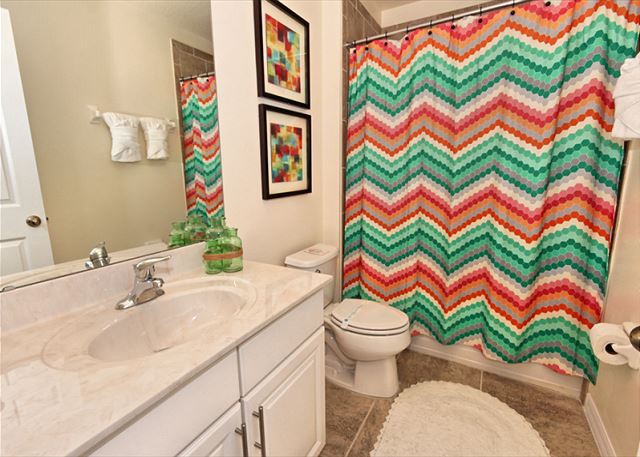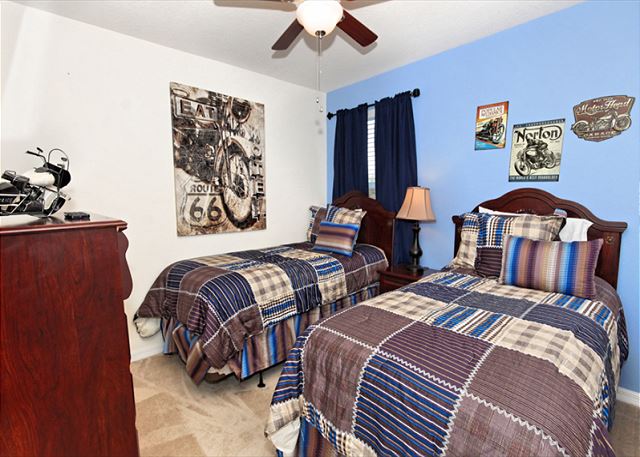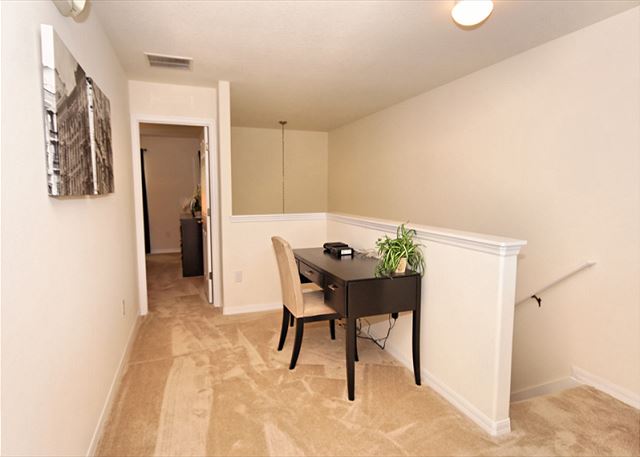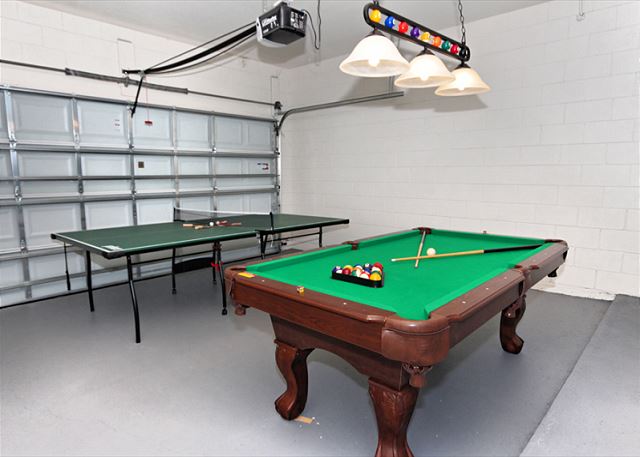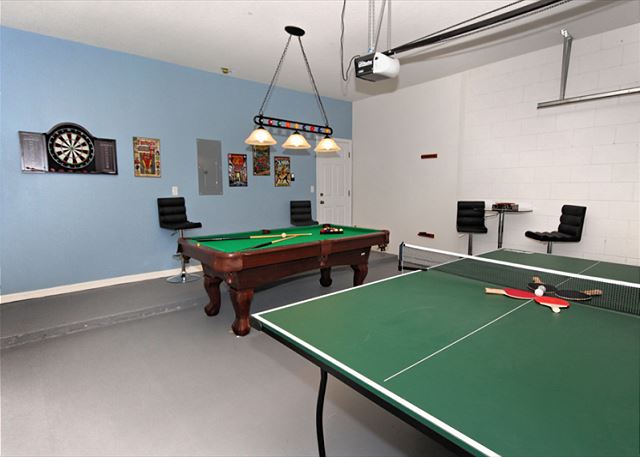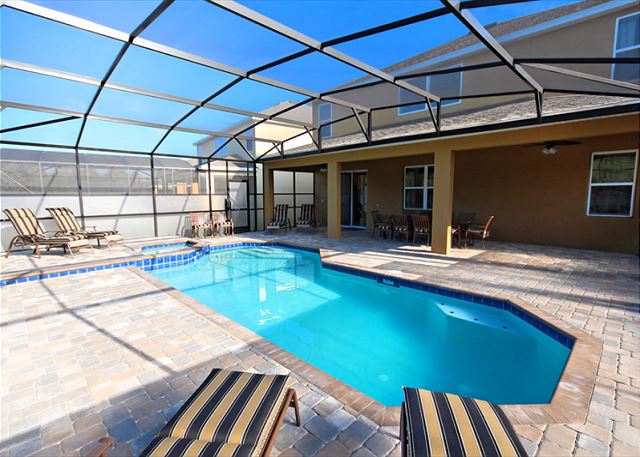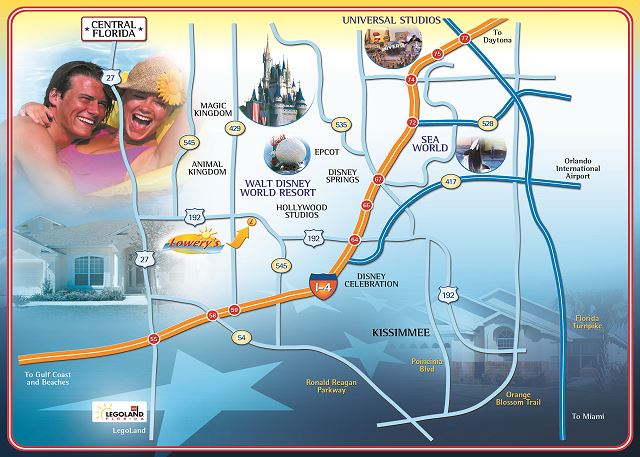 Description
5 Night Minimum Required to Secure a Booking.
The peaceful guard gated community of Watersong is home to this superbly appointed pool home. Watersong is a beautiful area of lush woodlands and water conservation areas spread over 46 acres. It provides a tranquil environment, perfect for families to spend time together by their own private pool whilst still being close to all of the attractions that Orlando is so famous for. The Watersong community has an array of facilities that guests are welcome to use, including a fabulous resort style swimming pool.
This spacious private pool home comprises of 6 bedrooms and 5.5 bathrooms which are split over two levels, it can very comfortably accommodate up to 12 people. The home has been tastefully decorated and nicely furnished throughout and offers guests a welcoming home from home experience. The vacation home boasts 4 master bedrooms, all with their own ensuite bathrooms. Each of them has been thoughtfully decorated and designed and offer guests a pleasant private space in which to retreat and unwind. There are a further two bedrooms with twin beds that share a bathroom. These have a 'Lion King' and 'Motorbike' theme, sure to prove popular with some members of the family. For guest entertainment all bedrooms have a wall mounted flat screen television.
The generously sized open plan kitchen is fully equipped with all the everyday modern appliances and utensils necessary for the preparation of family meals. There are different areas for both dining and relaxing, providing plenty of space in which to congregate and making it a perfect place to spend quality time with family and friends. The home has a super games room that includes both a pool and ping pong table for everyone to have fun playing. Complimentary high speed WiFi is available for guests to use.
Outside there. is a beautiful private pool, spa and outdoor shower with a fabulously sized patio deck area. There are comfortable sun loungers and plenty of chairs provided for you to relax upon. A covered lanai extends across the back of the home providing plenty of shade. A dining table and chairs sit beneath this so that you can enjoy dining al fresco. A peaceful setting with everything that you and your family will need to enjoy outdoor life in the warm Florida sunshine.
Watersong Resort is a beautiful 46 acre community of luscious green woodlands and water conservation areas. Making this a very peaceful and tranquil environment, ideal for relaxing after a busy day at the theme parks. The resort is guard gated for security and offers guests an elaborate clubhouse encompassing a business centre, fitness centre and a lounge. The community has a large resort style pool and a spacious pool deck area with sun loungers and a spa. There is a children's playground, together with a basketball and volleyball court to keep them amused.
The Watersong Resort is located just a short drive from the Disney World Resort and other major theme parks are also easily accessed. Conveniently located close by are supermarkets, exceptional shopping facilities and first class golf courses making this an ideal base from which to enjoy all that Florida has to offer.
3 King Beds /
1 Queen Bed /
4 Twin Beds
Amenities
General
Air Conditioning/Heating
Ceiling Fans
Free WiFi
Phone
Washer & Dryer
Ironing Board/Iron
Linens Provided
Towels Provided
Hairdryer
Parking
Kitchen
Full Kitchen
Refrigerator
Coffee Maker
Ice Maker
Microwave
Toaster
Cookware
Stove
Dishwasher
Dishes & Utensils
Glassware
Outdoor Features
Private Pool
Spa
Pool Deck/Patio
Lanai
Outdoor Shower
Entertainment
Games Room
Television
DVD Player
Safety Features
Smoke Detector
Carbon Monoxide Detector
Fire Extinguisher
Emergency Lighting
Emergency Exit Route/Plan
Community/Resort Facilities
Gated/Secure Community
Swimming Pool
Clubhouse
Gym/Exercise Room
Children's Play Area
Location
Disney Resort in 11 to 15 miles
Universal in 21 to 25 miles
SeaWorld in 21 to 25 miles
Restaurants within 5 miles
Shops within 5 miles
Calendar
July 2019
Sun
Mon
Tue
Wed
Thu
Fri
Sat
1
2
3
4
5
6
7
8
9
10
11
12
13
14
15
16
17
18
19
20
21
22
23
24
25
26
27
28
29
30
31
August 2019
Sun
Mon
Tue
Wed
Thu
Fri
Sat
1
2
3
4
5
6
7
8
9
10
11
12
13
14
15
16
17
18
19
20
21
22
23
24
25
26
27
28
29
30
31
September 2019
Sun
Mon
Tue
Wed
Thu
Fri
Sat
1
2
3
4
5
6
7
8
9
10
11
12
13
14
15
16
17
18
19
20
21
22
23
24
25
26
27
28
29
30
October 2019
Sun
Mon
Tue
Wed
Thu
Fri
Sat
1
2
3
4
5
6
7
8
9
10
11
12
13
14
15
16
17
18
19
20
21
22
23
24
25
26
27
28
29
30
31
November 2019
Sun
Mon
Tue
Wed
Thu
Fri
Sat
1
2
3
4
5
6
7
8
9
10
11
12
13
14
15
16
17
18
19
20
21
22
23
24
25
26
27
28
29
30
December 2019
Sun
Mon
Tue
Wed
Thu
Fri
Sat
1
2
3
4
5
6
7
8
9
10
11
12
13
14
15
16
17
18
19
20
21
22
23
24
25
26
27
28
29
30
31
January 2020
Sun
Mon
Tue
Wed
Thu
Fri
Sat
1
2
3
4
5
6
7
8
9
10
11
12
13
14
15
16
17
18
19
20
21
22
23
24
25
26
27
28
29
30
31
February 2020
Sun
Mon
Tue
Wed
Thu
Fri
Sat
1
2
3
4
5
6
7
8
9
10
11
12
13
14
15
16
17
18
19
20
21
22
23
24
25
26
27
28
29
March 2020
Sun
Mon
Tue
Wed
Thu
Fri
Sat
1
2
3
4
5
6
7
8
9
10
11
12
13
14
15
16
17
18
19
20
21
22
23
24
25
26
27
28
29
30
31
April 2020
Sun
Mon
Tue
Wed
Thu
Fri
Sat
1
2
3
4
5
6
7
8
9
10
11
12
13
14
15
16
17
18
19
20
21
22
23
24
25
26
27
28
29
30
May 2020
Sun
Mon
Tue
Wed
Thu
Fri
Sat
1
2
3
4
5
6
7
8
9
10
11
12
13
14
15
16
17
18
19
20
21
22
23
24
25
26
27
28
29
30
31
June 2020
Sun
Mon
Tue
Wed
Thu
Fri
Sat
1
2
3
4
5
6
7
8
9
10
11
12
13
14
15
16
17
18
19
20
21
22
23
24
25
26
27
28
29
30
July 2020
Sun
Mon
Tue
Wed
Thu
Fri
Sat
1
2
3
4
5
6
7
8
9
10
11
12
13
14
15
16
17
18
19
20
21
22
23
24
25
26
27
28
29
30
31